Cats top Cards 56-47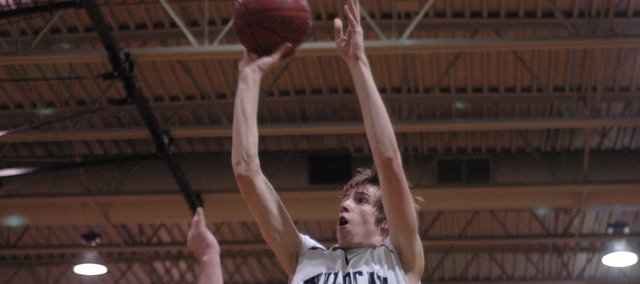 Aaron Nutterfield scored only two points, but his presence was felt much more than that. Nutterfield was a force on the boards, blocked shots and hustled all night long. Teammate Dylan Burford scored all eight of his points in the fourth quarter, and De Soto hit 8-of-10 free throws down the stretch and beat Eudora, 56-47, in the opening round of sub-state play Monday night at De Soto.
Brendon Hudson and Mason Wedel scored 12 apiece to lead De Soto. Brian Katzfey scored 12 points and Justin Ballock added 11 to lead the Cardinals. Eudora ends its season at 11-10. De Soto (15-6) will play the winner of the St. James-Spring Hill contest Thursday at Eudora High.
1 2 3 4 F
Eudora 17 9 3 18 47
De Soto 13 12 14 17 56
Eudora: Evan Cleveland 6, Justin Ballock 11, Kyle Swanson 3, Brian Katzfey 12, Cody Carlson 3, Drew Noble 8, Michael Bricker 4.
De Soto: Brendon Hudson 12, Mason Wedel 12, Jamel Townsend 4, Dylan Burford 8, Tommy Elmer 6, Brandan Philbrook 12, Aaron Nutterfield 2.