Super senior
Townsend named
DHS

Male Athlete of the Year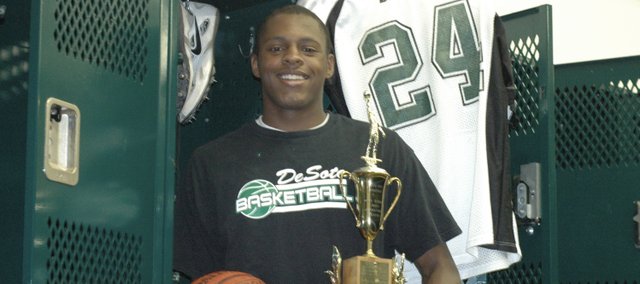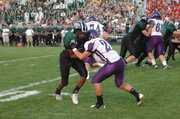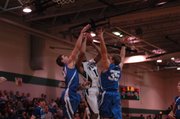 Fittingly, Jamel Townsend finished his high school career at De Soto with a leap that etched his name right into the state record books.
Townsend, already a star athlete in football and basketball, flew 23-feet, 4-inches at the state track meet in Wichita and took home the gold medal. Townsend, who also was nearly unstoppable on the football field and basketball court as a senior, is The De Soto Explorer's 2008-2009 Male Athlete of the Year.
"I always have high expectations of myself," Townsend said. "I never want to go in there and be third or fifth. It was my last jump. The biggest one was my last jump, and I just put it all together."
Townsend placed fifth in the triple jump, sixth in the 200-meter dash and helped the boys team score a fourth-place team finish at state. De Soto track coach Brian Dinkel said he knew Townsend would come up big at the biggest meet of the year.
"Jamel just kept getting better and better," Dinkel said. "And obviously you can't end the season any better than that."
Townsend came to De Soto as a junior, and Dinkel said having him on the team the past two years made his job easier and added that Townsend's soft-spoken demeanor and personality were just two of the youngsters many traits.
"You look at Jamel, and you know he's athletic," Dinkel said. "You watch him run and jump and he's definitely got a lot of athletic ability. It's fun coaching a kid with a lot of athletic ability, but the thing I like about Jamel is his personality. If you ask any of the coaches on the track team he's funny, he's a good kid. You can trust him to do what was right and work hard. He's definitely going to be missed."
On the hardwood, Townsend averaged 12 points and 9.5 rebounds for the boys basketball team. Townsend, who stands about 6-1, was often undersized on the low block and had to go up against opponents who were much taller. Townsend, though, countered what he may have lacked in height with ability and heart.
Townsend, who is left-handed, often posted up on either side of the lane and could hit turnaround fade-away jumpers or use his quickness to attack the rim and score inside off the glass. He was also an unselfish passer in the paint, and often drew the opposition's best post player on defense. Several times during the season, Townsend skied over players who were five inches taller to grab a rebound.
Townsend helped the team to a 15-7 record and into the second round of sub-state. De Soto also came within a whisker of winning the Frontier League title. Townsend also got to play his senior year with his brother, freshman Mason Wedel, which he said was a highlight for him.
"We had a really good year," Townsend said. "We lost a couple games that we shouldn't have, but we had a really fun year. And we got a lot closer during the year (as a team). I think we could have made some noise during state if we would have gotten there. But we had a lot of fun to together."
When asked which of the three sports he preferred, Townsend said he liked them all, but gave the nod to football.
"Football has always been my first love," he said. "I love playing football, but I love them all. They're all fun for me. Being a three-sport athlete you have to love what you're doing. You're busy all the time in sports, so you can't just go out there and be out there. I love all sports. It's pretty much my life, but football is definitely my No. 1. And basketball is right there, too."
Townsend was an All-Frontier League selection at wide receiver, defensive back and punter. But his contributions to the team measured far greater than just numbers alone. De Soto began the year 0-4. Then the seniors began holding team meetings to get the team back on track. De Soto then won four in a row and made the playoffs for the first time in four years.
"We were a pretty tight group in football," he said. "We didn't have any team dissension issues. We obviously didn't go as far as we wanted in the playoffs. It was a big accomplish to get to the playoffs, but we wanted to go farther than we did."
De Soto fell to Perry-Lecompton in the first round of the playoffs, but Townsend isn't done playing football. He will leave De Soto — his home for the last two years — around August 6 to begin the next chapter in his life. Townsend will play football at Pittsburg State University.
Those who got to watch Townsend's two-year highlight reel at De Soto surely won't forget it, especially his great senior year. And if the past two years were any indication of what the future might hold for Townsend in college, he has a bright four years ahead of him and many more after that.
More like this story