City Council to lift 83rd Street bike ban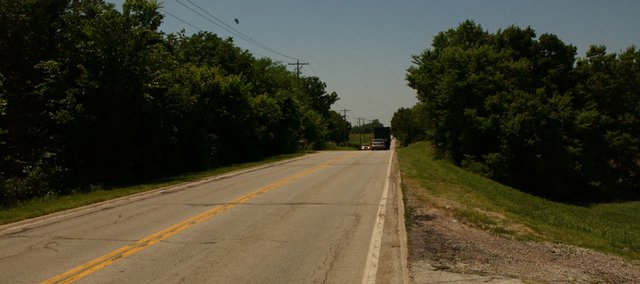 The De Soto City Council agreed last Thursday that the ban of bicycles on 83rd Street from Kill Creek Road to the east city limits should be lifted.
The ban on the stretch of road was put in place in the late 1990s because the road was thought to be too narrow and hilly to be safe for bike riders.
However, the council agreed the ban should be lifted after Councilwoman Mitra Templin first asked if 82nd Street could be made a bike route. In the discussion that followed, Templin and other council members noted there had never been a vehicle-bicycle accident on the section of 83rd Street.
It was agreed city staff should bring back an ordinance lifting the ban.
City staff was also instructed staff to review the ban on bringing food or drinks into the De Soto Aquatic Center that has been in place since the pool opened four seasons ago.
The ban became an issue in recent weeks when pool staff started strictly enforcing it.
Councilman Mike Drennon said the policy was difficult for families who couldn't afford to buy food or drinks at the pool and other council members noted if strictly enforced it would prevent parents from bringing in items for babies and young children not available at the pool's concession.
Templin said she researched the policy in Lenexa and Eudora. It was agreed, the city would look at modifying its policy to allow soft-pack coolers to be brought through the pool's gates but restrict them to certain areas, such as those two cities allow.
In the meantime, pool staff will continue to enforce current policy but with sensitivity in how the message is delivered.
Finally, Templin called the council's attention to an article in a municipal government publication about a city in Iowa that purchased equipment to show weekly movies at a park during the summer. The council agreed the city should look into doing the same at Riverfest Park.
In other action, the council:
• Approved a contract for $144,000 and $20,000 contingency with APAC-Kansas for this year's mill and overlay program. The project will repave streets in the area of the De Soto Baptist Church. A grant that was part of the federal stimulus package will provide $50,000 for the work.
• Approved a contract for $59,000 with Freedom Concrete of De Soto to replace the sidewalk west of the Dollar General on Wea Street. Federal stimulus dollars provided $40,000 of the total.
More like this story