Stanley, Erickson named Co-Female Athletes of the Year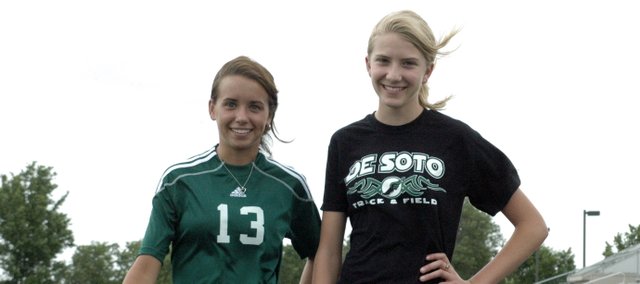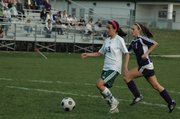 It was pretty obvious to those who watched Carly Stanley and Lacey Erickson this year that they had two of the best years in De Soto High School athletics history. And both will have the opportunity to repeat or better their performances next year.
Stanley, who had a solid cross country season and the best individual season in DHS soccer history, and Erickson, who had a great cross country season that culminated with a sixth-place finish at the state meet, and had a even better track season where she broke several school records and took home three medals at the state track meet, are The De Soto Explorer's 2008-2009 Co-Female Athletes of the Year.
In her junior soccer campaign, Stanley set DHS records for goals in a season (39) and points (99). She also tied the school career record for goals with 66. Stanley was a first team all-league pick, as well as Frontier League MVP. Stanley was also a first team all-state selection.
Stanley, who battled mono during cross country, finished 31st and Erickson finished sixth at the state meet. The girls helped De Soto notch a second-place finish at the biggest meet of the year. Stanley certainly could have had a successful track season and career had she opted for spikes and not cleats. Wen asked why she preferred to play soccer, she simply stated, "It's just a sport that fits me," Stanley said.
Stanley helped the Wildcats to an 11-6-1 record and a playoff win this year. The 11 wins tied the school record for wins in a season, and soccer coach Darren Erpelding said Stanley's season was the best in DHS soccer history.
"To this point, there's no doubt about it," Erpelding said. "For years to come, it's got to be up there unless she beats it next year herself. Somebody's going to have to have — whether it's me coaching the girls, or 15 or 20 years down the road and somebody new — they're going to have to have a phenomenal season to do what she did and do better.
"And it's not just goals and assists," Erpelding said. "There's so many other things that she did on the field that you don't see in a box score. Her hustle, she challenged, her competitiveness, the drive, things like that. Those are things that you don't see on the field all the time, and she just did it."
While Stanley excelled on the pitch, Erickson excelled at long distance running, whether it be rough terrain on a cross country course or a smooth track surface. Erickson said she enjoyed running cross country because of the fun team atmosphere and cross country coach Chris McAfee. Erickson also said she had no intention to stop running long distance races.
"I'm more successful at long distances," she said. "I don't think I could run short distances."
In cross country, Erickson also placed third at both league and regionals.
"She put in quite a few miles, and she did it consistently," McAfee said.
Erickson was equally consistent on the track, and broke the school record in the girls 3,200-meter run, 1,600 and 800. She also was on the team's 3,200-relay team that set the school record at the state meet.
"If we ever have another athlete who breaks that many records in one year, that'll be a miracle," track coach Brian Dinkel said. "That's rare to have a kid come along and break records that have been around a long time."
Dinkel said he was most impressed with Erickson's consistency through the entire season.
"I don't think I've ever coached a kid that they've stepped up to the plate every single track meet and competed to the best of their abilities," he said. "And she's just a sophomore."
Stanley and Erickson are already preparing for their senior and junior years. Stanley plays club soccer throughout the year, and Erickson is usually running early in the morning.