Library offers activities to stretch creativity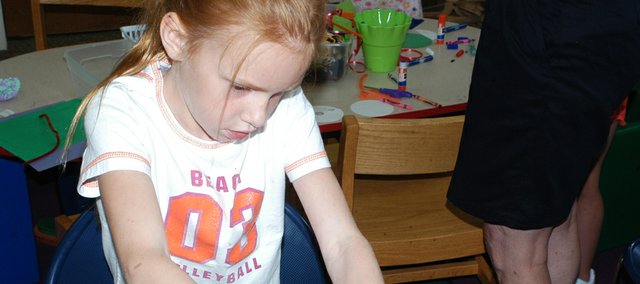 A snowman in June isn't exactly possible in De Soto Kansas.
But 5-year old Sara Murphy decided to create one Friday at De Soto's branch of the Johnson County Library. But there was no snow involved, just a lot of dots and squiggles.
Sara dropped in for the Library's Dots and Squiggles craft time between 10 a.m. and noon.
"I really like how fun they are to make," she said of the snowman. "My dad taught me how to make them. I want to be an artist when I grow up so I better like making things."
The activity allows children to explore their artistic creativity by using dots and squiggles. The drop-in activity was for children of all ages.
Sara wasn't the only budding artist on site Friday. Sisters, Lane Hileman, 7, Suzanna Hileman, 6, and Kate Hileman, 4, joined in the fun, using Floam, CDs and pipe cleaners to make creations.
"I'm making a flower," Lane said. "We come every once and a while, usually to check out books."
Dots and Squiggles is only one activity the De Soto branch has to keep young and older children occupied during the summer.
Robyn Blachly, library youth specialist, said the drop-in activities, such as Dots and Squiggles, was more convenient for families on the move.
Other, larger programs such as the up coming Kid-Authored Whoppers! are conducted next door at The Crossing Youth Center so more children can attend.
Kid-Authored Whoppers! features storyteller Jo Ho, who encouraged children during the school year to turn stories into tall tales. Jo will share stories, then ask the audience to create one on the spot.
Kid-Authored Whoppers! begins at 10:30 a.m. Friday morning at the De Soto Library.
In the afternoon, children ages 10 to 18 can get creative making wallets and sandals out of duct tape. The Duct Manufacturing Inc. program runs from 3:30 p.m. to 5 p.m.
The library had two on-going programs for children this summer.
The Create the Book of De Soto Program challenges children to write and illustrate stories throughout the summer. The stories are added to the summer's short story notebook, which is on display for everyone to read.
The De Soto Art Gallery showcases two-dimensional art throughout the library.
After finishing her snowman, Sara moved on to make a pig.
"I used white paper and colored it in," she said of making the pink pig.
Lane moved on from her flower to help sister, Suzanna, make a flying, reflective disc with a CD and pipe cleaner.
The De Soto Library offers a plethora of free activities for children of all ages this summer. Whether it's getting creative with Dots and Squiggles or captivating audiences with tall-tales in Kid-Authored Whoppers!, there's a program for everyone.
More like this story