De Soto Chamber of Commerce Country Concert dodges thunderstorms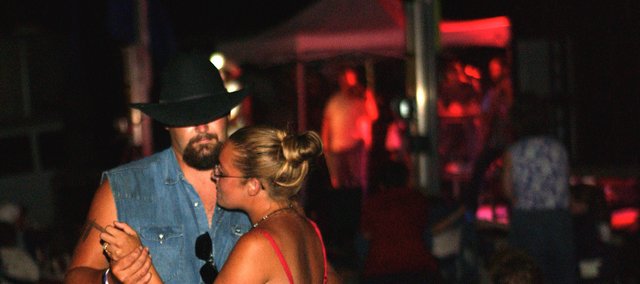 A self-described huge country music fan, Jack Lemmon was impressed with the De Soto Chamber of Commerce Country Concert.
"It's a really great location," the Lenexa man said as he walked the vendor sidewalk just before the Tracy Byrd set Saturday at Riverfest Park. "I heard the ads running on the radio today and just thought I'd come out and see how it was.
"It's a really nice area with the river in the background. It's fun."
Rains earlier in the day and the threat of more storms in the evening hurt attendance at the concert, said De Soto chamber director Sara Ritter. But the good impression made on visitors like Lemmon made the concert a success, she said.
"We're hearing from a lot of people they were surprised," she said. "They said the park was beautiful and they were surprised at how nice it was.
"I'm really happy. It was the first event that was solely a concert. We didn't know what to expect."
Ritter estimated paid attendance at from 1,800 to 2,000. She is convinced had rain not threatened the event, it would have drawn twice that number.
The bands were very impressed by the park as a music venue, and vendors were pleased with their business, Ritter said.
Among those in the crowd were three international visitors to Mr. Goodcents (one of the event's sponsors) corporate headquarters: Lynn Potter of Edinbugh, Scotland; Arpana Nanji of Madras, India; and Arturo Meijide, of Santiago, Spain.
Potter said country music in familiar in Scotland but that she was used to June daytime highs in the high 70s. Meijide said country music was know but not extremely popular in Spain. The evening was Nanji's introduction to country music.
But all three said the evening was a nice opportunity to experience Americana.
The Mr. Goodcents' guests traveled farther than others to come to the concert, but Ritter said it drew an impressive number of towns throughout the metropolitan area on both sides of the state line.
One of the chamber's goals was to increase awareness of the venue in the region, Ritter said. To do so, the chamber mounted its biggest marketing campaign to date with the help of the $5,000 challenge donation from Engineered Air and country radio station KFKF, she said.
"It think we hit a homerun as far as getting people into De Soto who had never been here before," she said.
Ritter said she was already planning for the chamber's annual Cookin' on the Kaw, scheduled for Oct. 9. As it was last year, it will feature a barbecue contest and blues bands, but the public event will be limited to Friday night, she said.
"We have a lot of teams coming back, and they are telling others this is the event they need to attend," she said. "The barbecuers will show up rain or shine."
She and other chamber organizers were rehashing Saturday's concert and making a list of things that could be done to make next year's concert better, Ritter said. She was also hearing requests for performers.
The trick was to find performers who are well known enough to draw a crowd but not such big stars that they are priced out of the chamber's budget, Ritter said.
"I'd love to get a poll of who people think we could get next year," she said. "I'd love to get Tracy Lawrence. He's got tons of great songs and people love him."
The chamber would also look to schedule the concert next year right after school was out or soon after Memorial Day, Ritter said.
"We're fighting other events," she said. "It would be great to find a weekend that was our own."
But whatever the weekend, Ritter said one thing would be different next year.
"Next year, it's not going to rain," she said. "I'm not going to let it."
More like this story