Johnson County authorities warn of letter scam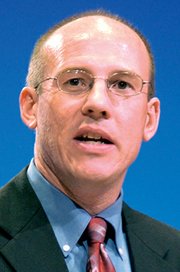 Letters notifying recipients of a "$100,000 +" guaranteed prize are popping up in Johnson County, but local law enforcement agencies warn the news is too good to be true.
The Olathe Police Department and Johnson County District Attorney's Office say the notification letter requests that the "winner" mail $12 to a post office box in Olathe to claim the prize. Investigators are unaware of any of the prizewinners collecting their sweepstakes prize after paying the $12 fee.
In a news release issued Thursday, Johnson County District Attorney Steve Howe said elderly individuals are often targets of these types of lottery scams. Such companies, the news release said, operate various schemes with the hope of duping consumers out of their hard-earned money.
Howe cautioned consumers to beware of any offer that claims they've won thousands of dollars, especially those that ask you to send money before awarding a so-called prize.
Anyone who has been a victim of this type of scam is asked to contact their local police department or the Johnson County District Attorney's Office White Collar Crime Division at (913) 715-3140.
More like this story