Country star to shine at De Soto Chamber concert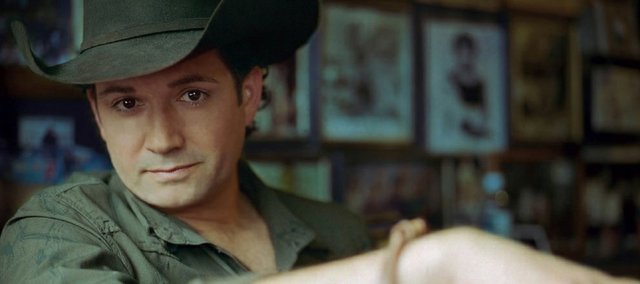 The night before he headlines at the De Soto Chamber of Commerce Country Concert, Tracy Byrd will play at the Mecca of country music, the Grand Ole Opry in Nashville, Tenn.
De Soto Chamber of Commerce Executive Director Sara Ritter said some people still find it incredible De Soto and the chamber can pull off a concert with an entertainer of that stature. Byrd has two chart-topping county hits and numerous top-40 country songs to his credit.
"KFKF radio personality Dale (Carter) made the comment he was surprised we could pull it off," she said. "I think a lot of people were surprised we could get someone of that quality and that our park can handle this."
Gates will open at 4 p.m. Saturday for the concert at De Soto Riverfest Park on 79th Street west of downtown De Soto. Kansas City band Vandel-Snook will kick off the music at 6 p.m. Josh Thompson, a young recording artists with Byrd's Columbia Record label, will perform at 7:30, and Byrd will take the Riverfest Park stage at 9 p.m.
Tickets are $10 in advance and $15 at the gate.
The concert will go on rain or shine. Nonetheless, Ritter was pleased Monday's long-range forecast called for warming, drier weather through the weekend.
"Oddly enough, I quit worrying about the weather after listening to all the forecasts," she said. "I have enough other things to worry about."
Ritter said she visited Riverfest Park Monday after rains that morning and the past week. The parking lot was soggy in spots but if the rain stops Tuesday as forecast, it ought to dry up during the year's longest days, she said.
Ritter said tickets sales have picked up this week and she expected at least 1,000 tickets would be sold in advance. Tickets can be purchased at the chamber office at 33150 W. 83rd St., the locations of various chamber members — including City Hall — and online at desotoks.org
Tickets were kept cheap to help introduce Riverfest Park to the region, Ritter said. Saturday's concert will be only the second event at the park since it opened with the chamber's annual Blues and BBQ last October.
She is confident the event will draw the 2,300 she said was needed to make it a success for the chamber, Ritter said.
"How much more we might get, I have no idea," she said.
Helping to drive attendance will be two interviews with Byrd that will air this week on KFKF, Ritter said. The radio station is one of the concert's main sponsors with Engineered Air of De Soto.
The low cost of tickets may be dampening advance ticket sales as many are waiting to buy at the gate, Ritter said. If that is the plan, she advised the country music fans to come soon after the gates open because on-site parking will be limited to the first 2,000 to 2,500 fans attending, she said.
There will be numerous vendors at the park to care for the early arrivals, Ritter said, including sponsors Oklahoma Joe's BBQ and Mr. Goodcents. There will be a lemon and lime aide stand and a beer garden to help fight the June heat, she said.
The park was treated for mosquitoes earlier this week, but Ritter said those attending might want to bring their own repellent. Attendees are also encouraged to bring lawn chairs or blankets as the park does not have seating.
De Soto City Administrator Pat Guilfoyle said the De Soto Parks and Recreation Commission would provide the parking for the concert and collect the $5. Attendance will be monitored and a plan is in place to provide off-site parking at De Soto High School and Lexington Trails Middle School with bus rides to Riverfest Park should it appear on-site parking would fill, he said.
The concert is truly a community effort with the De Soto Rotary Club and Relay for Life organizers volunteering to provide key services Saturday, Ritter said.
She also credited the chamber members who stepped up to sponsor the event, especially Engineered Air President Ric Rambacher, whose $5,000 challenge donation contributed much to the concert's success.