Striking success
Williams K's 161 batters during 11-11 season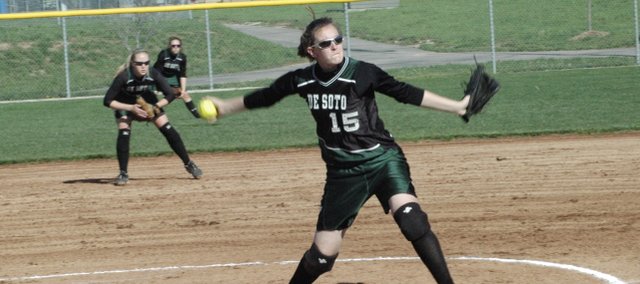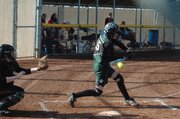 Her No. 15 jersey may not be covered in stripes or medals, but make no mistake about it, Katie Williams is a general.
After all, only a general could possess that much control and command over something as crucial as the strike zone.
Just how effective was Williams when she took the mound for the De Soto softball team this year?
Try 161 strikeouts with only 20 walks for the season. Williams also went 9-9 and had a 2.23 ERA.
"Finding my pitches and commanding them was my main focus this season," Williams said. "It was a huge improvement from last season. Honestly, some of my stats surprised me."
De Soto softball coach Melissa Wible said she had never seen a walk-to-strikeout ratio like Williams' in her time at De Soto.
"Katie had a really great season," Wible said. "Having her throwing really helps the rest of the team's confidence."
The squad, which went 11-11 and competed with the best of the Frontier League, possessed all the confidence necessary as Williams pitched 110 innings for the Wildcats this season.
"I usually went to the trainer every day to work out the soreness," Williams said. "Pitching underhand is a natural motion and my shoulder has gotten pretty used to it. It did catch up with me in the second round of regionals, though."
While the second game of regionals marked the end of an inspired campaign for De Soto, it was the first game of regionals that Williams said she was most proud of. It was the first time in five years that De Soto won a playoff game.
"Helping get my team to the second round was my biggest highlight," she said.
Williams had an awful lot to do with that victory. The leadoff hitter in addition to the game's starter, Williams brought a strong bat and left the game having tossed a shutout.
Wible said the entire program was excited to be returning a talent like Williams.
"Everyone is really excited to have girls like Katie coming back," she said. "We have a lot of potential, and things are really looking up for the program. Kids look up to Katie because she has a lot of leadership and is a very hard worker."
For now, the second team all-leaguer will go back to her club team and prepare for next season.
"I think my offseason was what allowed me to play so well this year," Williams said. "I was pitching every single day and playing club ball year-round."
Williams said that while the individual accolades and memorable performances — like the time she struck out 29 batters in a doubleheader against Louisburg — were nice, her goals for next season are still team-oriented.
"Since it's my senior year, I really want to go to state," she said. "And with the group we have coming back, I think we'll have a solid chance to do that. I just want to do what I did pitching-wise this year and continue to get better for my team."