Soccer played best ball at end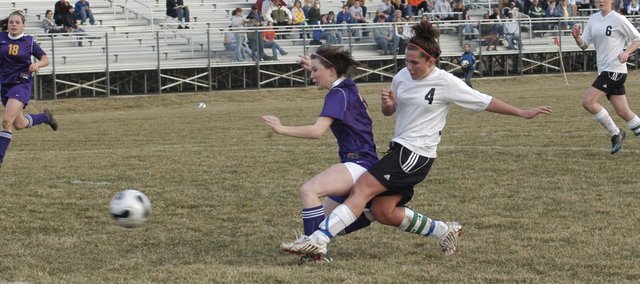 They tied and broke school records, dismantled teams that were supposed to beat them and played with a togetherness rarely seen out of a squad that featured just four seniors.
Yes, Darren Erpelding's girls had a season to remember in 2009.
The team ended 11-6-1 and played some of its best soccer at the end of the campaign, which is something Erpelding stressed as the season progressed.
"Obviously the goal is to make a run at the end of the year and we made that happen," he said. "We won two of our final three games until we ran into Aquinas."
The Wildcats lost 8-0 to the legendary power in the state — St. Thomas Aquinas — in the regional semifinal, but not until after De Soto crushed Kansas City Christian and Basehor-Linwood by a combined score of 11-0.
"To beat Basehor 6-0 and end the regular season with a 5-0 victory against Christian were two really good wins," Erpelding said. "I was really happy with how they ended the season."
Even against Aquinas, Erpelding found some positives to take away from the contest.
"Running into St. Thomas Aquinas is tough," he added. "But we did pretty well. We attacked pretty well and looked to go forward against them. We did some pretty good things in that match."
The next step toward creating a team that can compete with squads like STA is to find replacements for the girls lost to graduation in May. Erpelding said he had a solid group of seniors who were leaders on and off the pitch and will be missed.
"Those girls did a great job for us," he said. "We'll need to replace them with another center midfielder, left back and a couple forwards. Hopefully we can have some freshmen come in and step up right away and some J.V. girls get better and add depth."
The squad returns seven starters next spring. If the Wildcats can find some suitable replacements for the aforementioned positions, Erpelding believes his program can continue to succeed as a force to be reckoned within the Frontier League.
"I was definitely pleased with this season," he said. "I thought we could win a lot of games and we did. We played some teams a lot tougher than we were expected to."
More like this story