Park staff says hunt necessary to control deer population
District board to discuss staff recommendations June 17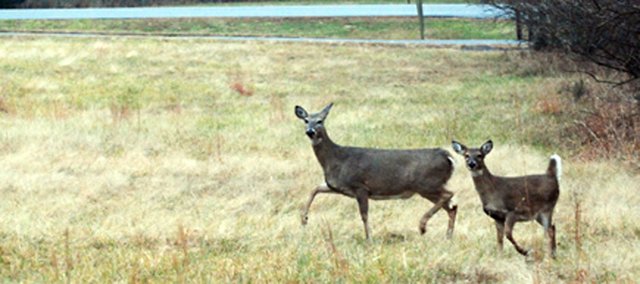 Lethal means will be necessary in order to control the deer population at Shawnee Mission Park.
This is the opinion of Johnson County Park and Recreation District staff members, who posted their suggestions for addressing the overpopulation online Wednesday, saying sharpshooting and bow-hunting should be the main methods of controlling the population. The park district board will discuss staff's recommendations at its regular monthly meeting at 7 p.m. June 17, which has been moved to the Lenexa National Guard Armory, 18200 W. 87th Street Parkway.
Staff took into consideration the district's new biodiversity policy and resource management plan, as well as expert advice and input from the public given at a meeting last month at the Shawnee Civic Centre.
The report states a significant reduction is required, and the "only viable alternatives for the initial reduction are by lethal means." It recommends that in mid- to late-fall 2009, there be an initial harvesting of the herd by internal sharpshooters.
Non-lethal translocation is not allowed in Kansas, and other means, such as fertility control and fencing, would not "be effective and/or feasible, given the urgency and scope of the existing situation," the report states.
A 2007 survey of the 2,230-acre park, performed with the aid of the Kansas Department of Wildlife and Parks, found 204 deer per square mile, and one the following year found about 197 deer per square mile. Experts at last month's meeting said normal deer levels would be about 30 deer per square mile.
The details of a fall harvest could be finalized in the next few months, the report states, including specific dates and locations, arrangements for processing and other logistical issues.
Previously, experts have said bringing in outside sharpshooters could cost $150 to $400 per deer, but the report recommends the district use park police officers and officers from local police departments who could undergo expert training. The meat would be processed in a manner that it could be donated to charitable organizations.
The harvest would be limited to controlled, baited sites previously developed to establish a pattern of feeding for the deer.
After the initial harvest, a follow-up deer population survey would be conducted, and if the population is still too high, secondary harvests could be organized. Staff recommended the park aim for a population of 50 deer per square mile.
The secondary harvest could be a controlled hunt by specially-certified archers, the report states. Archers would be required to undergo a proficiency examination and pay an access fee on top of state permit fees.
This harvest may only be able to take place in the half of the park located in Shawnee, because the city already has laws in place allowing bow-hunting. Lenexa does not currently allow bow-hunting on public property.
The staff report also recommends the district use non-lethal methods to control the deer population over the long-term.
More like this story