Who's Who: Morgan Frehe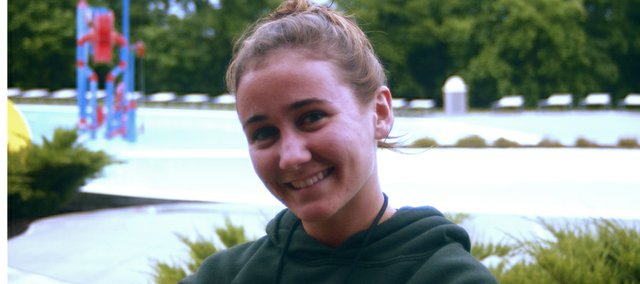 Age: 20
Family: Parents, Michael and Melinda Frehe; three younger sisters. Michaela, Madison and Montana.
Hometown: De Soto
Q. What's keeping you busy?
A. I'm the co-manager of the De Soto Aquatic Center. I'm a student at Emporia State (junior next fall) studying physical science and pre-meterology, and I'm in the Air National Guard in the weather information unit.
Q. What's your career plans?
A. I go to basic next January and then I'll go to tech school for meterology. After that, I go back to Emporia State to finish and then find a job. I might go active duty Air Force.
Q. If you could vacation anywhere in the world, where would you go?
A. Greece. I just think it looks beautiful. It has a lot of history, and I that kind of culture and I think its ocean is beautiful.
Q. What are your pet peeves?
A. Somebody who is a hypocrite. And it just bugs me when people don't take things as seriously as they should — when they blow things off.
Q. Is there any one event that changed the way you look at things?
A. I don't think there was any one thing that made me what I am. I think everything I've experienced.
Q. What's the best piece of advice you ever got?
A. No regrets. From coaches. All runners live by it a little bit, and I think it works for all parts of my life.
Q. If you could travel back in time, what era would you like to visit?
A. The 1970s when they had vibrant lights and dancing. That seems like a lot of fun.
Favorite things
Muscian: Reba McEntire. She's so funny.
Movie: Little Mermaid
Book: The Harry Porter series and the Twilight series
Food: Anything that's bad for me — junk food and pop.
Ideal car: I want an old manual Chevy pickup. One that has character.
More like this story