Tricks a treat for girls at Rodeo Bible Camp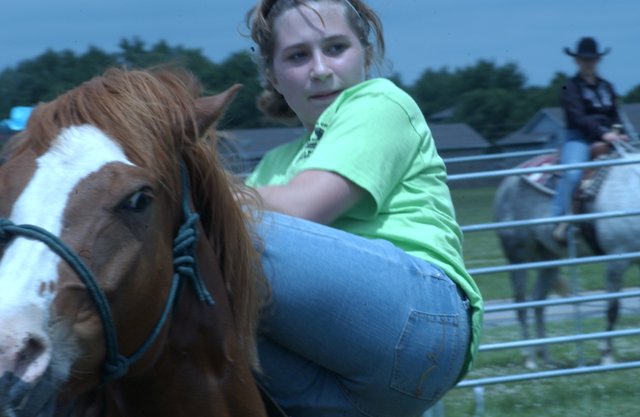 Mackenzie Williams grew up with horses on her family homestead just south of De Soto, but she only gets excited about them once a year.
For the third-consecutive year, Mackenzie learned to do various stunts from the backs of horses at the annual Spoon Creek Rodeo Bible Camp conducted annually at the Johnson County Fairgrounds in Gardner.
There's much more to the camp than trick riding. The six-day camp mixes Christian messages with clinics in various rodeo skills for middle school and high school age groups.
"This is the only thing I do all year with horses," the 13-year-old girl said. "I like it because I get to see all the friends I make every year.
"But I love the adrenaline rush. That's what I want."
As their friends and family members watched Monday, Mackenzie and seven other girls and one boy showed off the newly learned or polished tricks they learned in the three-day junior, or middle school portion, of the camp. The stunts had them hanging over the backs of horses with one foot in a stirrup, standing atop a trotting horses, dropping both feet to the turf before springing back into the saddle and other showing off other tricks.
All were impressive feats of daring, but Mackenzie's tricks were a bit more so. One stunt had her sprawled out facing backward behind a horse with her feet hooked in stirrups before pulling herself back up to ride bareback behind the saddle.
Mackenzie's skills impressed former De Soto resident Richard Gratny, who with his wife, Annette, and daughter Trisha, brought the eight horses as well as the specially designed saddles and bridles used in the trick camp from their home in Paris, Texas.
"It takes someone who is gymnastic," Gratny said. "Mackenzie has muscled up and is very gymnastic.
"It takes a lot of determination. You can't let a few bruises slow you down."
Bumps and bruises were just part of the experience, said Mackenzie and her friend, Madeleine Field.
"I have a lot of bruises," Mackenzie said. "I fell at least five times."
She had a large bruise, too, and fell once, Madeleine said. Her friend Mackenzie, both girls will be eighth-graders at Lexington Trails Middle School next year, convinced her to attend the camp last year, Madeleine said. The bruise made her side-of-the-horse, open-armed layout a bit more difficult, she said.
"It hurt a lot," she said.
The girls' mothers said they were OK with their daughters doing the tricks under the supervision of Gratny, his wife and daughter and the other instructors at the camp, some of whom attended the camp as youngsters.
"I'm a little anxious, but they have a lot of help," said Mackenzie's mother Marcie Williams. "If she fell, it would be in a soft place.
"She wants to do this all the time at home, but I won't let her."
"She always comes home with bruises and a big smile on her face," said Madeleine's mother Shelle Field.
The tricks taught at five clinics from Saturday through Monday were among those the Gratny family performed during their days of entertaining the Professional Rodeo Cowboys Association events.
Richard and Annette still perform rope tricks and will perform at the Oklahoma State Fair this fall, where daughter Trisha will join them as a trick rider.
Trick riding started with bored cowboys looking for ways to impress their friends, Trisha said. It then became a competition but evolved into entertainment, she said. Now even that is threatened as there are fewer and fewer trick riders, she said.
That explains the Gratnys dedication to participating in the Gardner event they have attended all 16 years of its existence.
"This our calling," Richard Gratny said. "Right now, I feel like it's necessary.
More like this story