Camp makes science fun with hands-on activities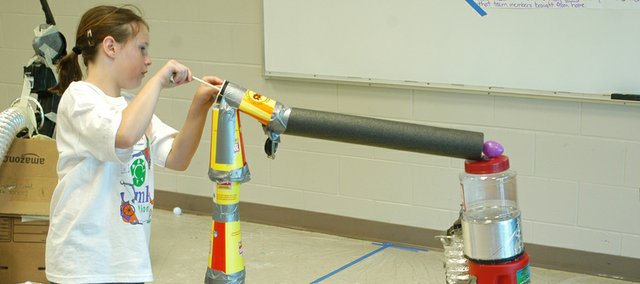 Exploring a new planet, saving a city from pollution and creating roller coasters were just a week's worth of work for first- through sixth-graders at Camp Invention.
De Soto USD 232 played host to 56 campers last week at Mize Elementary for the camp's Create program.
Across the county 118 campers attended Camp Invention's Discover Program at Eudora Middle School. Last year, the district held the camp at the elementary.
This is the first year USD 232 has offered the weeklong day camp, which focuses on enrichment in science, math, history and art with hands-on activities.
The Create Program, one of three Camp Invention programs, focused on problem-solving and brainstorming to complete five activities in one week.
In "Problem Solving on Planet ZAK" campers used creative and critical thinking to rebuild their spacecraft after crashing on a strange planet. Campers used a variety of recyclables to create their new space ship. Campers had to navigate the planet in search of food and shelter.
In "Saving Sludge City" campers saved a city from the adult pollution that has reeked havoc. Campers explored ecology, green design and create a water filtering system for the city.
Kathy McBride, who organized the camp, said campers discussed ways to work together to stop pollution.
"It's amazing the number of young environmentalist with ideas of expanding to be more environmentally conscious," she said.
In "Imagination Point: Ride Physics" campers created a roller coaster for an amusement park. Campers explored Newton's three laws of motion and the concept of inertia while creating their rides.
In "I Can Invent: Fantasy Inventions & Complicated Machines II" campers disassembled machines brought from home to create new inventions.
Younger campers drew upon their own creativity to make an all-new invention, while older campers worked in groups following instructions to build a machine to crack an egg.
Aiden Baehr, Mize third-grader brought in an old VCR to create a bug sprayer.
"I learned that capacitors are dangerous," he said. "And don't pollute."
"Recess Remix" offered campers a twist on traditional recess activities, such as using water balloons.
Quinn Sheehan, Horizon Elementary fifth-grader, came to camp to explore his creativity.
"My favorite activity was probably the roller coaster," he said. "You get to use gravity and physics to make roller coasters."
Three Starside Elementary students made the trek to take part in the camp, which features slight variations on the activities at Mize. Viking Treasure Trek, Comic Book Science, Land Sled X-Treme, Recess Remix and I Can Invent engage the campers in scientific creativity.
Jackson Ragland, Starside fourth-grader, attended the camp with fellow Starside fifth-grader Dawson Field.
"My mom is trying to get me to try new things," Jackson said. "I thought I'd like it best here."
Dawson wanted to attend the camp because it sounded really neat, and the activities were appealing.
"Science is my favorite class," he said. "I brought in a DVD player to take apart."
The activities call for creative and patient counselors, as well.
At Mize, three high school and college students served as camp counselors, assisting the three district teachers leading the program. McBride said the teachers and counselors were a huge asset to the program running smoothly.
"We had several parents comment how engaged the kids are and how they raved about it (the camp) at home," she said.
Becca James, a recent De Soto High School, was one of the counselors.
"They (campers) had great ideas," she said. "The activities got them thinking about pollution, brainstorming and problem solving in teams."
In Eudora, 40 teachers, camp counselors and junior high volunteers ensured the smooth operation of the camp.
Barbie Hartwell, Eudora camp organizer, said a lot of the volunteer workers were students that attended the camp last year but were to old to attend again.
"The junior high students stay in the rooms and help the teachers run activities," she said. "The high-schoolers stay with the groups and act as camp counselors."
Activities culminated Friday with an Inventors Showcase for parents at both camps. Groups debuted their inventions and showed off their new green habits.
"There were a lot of diverse activities," McBride said. "I can't imagine something you didn't love."
Next year, McBride anticipates the district will offer Camp Inventions second installment, the Discover Program, as well as the Create Program.
In Eudora, Hartwell expects the camp to grow even more in attendance with the third year of Camp Invention.
More like this story