Survivor thankful for support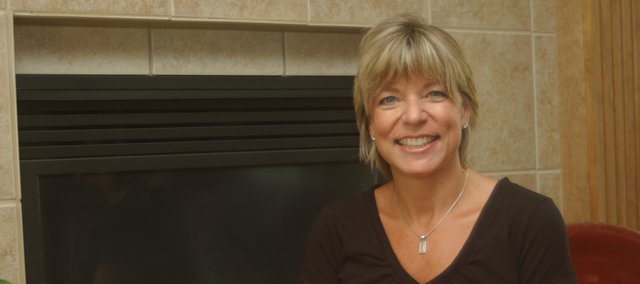 As a wife, mother of a teenage son and part-time teacher, Dana Pasley deals with the daily time scheduling pressure of other suburban soccer moms. But she says she now approaches life with a more relaxed attitude.
A 10-month battle with cancer changed Pasley's outlook. It was a battle that could have had a very different ending had she not followed up on some early warnings.
Pasley credits her survival to a number of chance events that started a little more than two years ago when her husband, Joel, hit her leg with a large washer while playing a horseshoe-like tailgate game. About a week later, she asked the school nurse at Lexington Trails Middle School where she substituted to look at a knot on her thigh.
"She said it was probably nothing put I should get it looked at," Pasley said. "I guess you would never think you husband hitting you with a washer was a good thing, but it was a God send."
Fearful the lump was a blood clot that could make dangerous a planned airplane trip to London for her 40th birthday, Pasley followed up on the nurse's advice. Just days later, she was told she would need surgery to have a tumor removed. Her doctor also told her to take the trip to London because her surgeon wouldn't be able to see her for more than two weeks.
She did manage to put the impending surgery, and diagnosis that would follow, aside and enjoy the trip to England, Pasley said. Much more difficult was the wait to learn the nature of the tumor that was removed, she said.
"Nothing was longer than between the surgery and when they confirmed it was sarcoma and not the good kind," she said.
Doctors told her the she had myxoid round-cell liposacrcoma. It was serious, round cell means fast spreading, but they gave her encouragement.
"They said, 'You're young and healthy. We're going after this really strong. You can do it with a positive attitude, family and faith,'" she said.
What followed was an "aggressive" treatment of four-months of four-day-a-week chemotherapy followed by one month of daily radiation treatments, Pasley said.
"Chemo was definitely the worse for me," she said. "The radiation was localized to my leg. I didn't have side effects like those who have it up in their chest area.
"I was fortunate to not get very sick (during chemo). I keep up on my medications and ate lots of carbs."
Also helping keep her strong during the treatments was the support of her husband, son Josh — who will be a freshman at De Soto High School next fall — parents and friends fro the school district, fellow members of Trinity Lutheran Church in Lenexa and other community friends.
Pasley said her mother Jean Schanefelt moved from her Illinois home to stay with her during the treatments. In addition to accompanying her to treatments, her mother's presence help ease her worry about caring for her husband and son. Her father Robert Schanefelt wrote a poem for her reminding her of her blessing during one of her low periods, she said.
As she battled through chemotherapy, Pasley saw others who weren't as fortunate.
"Mother and I saw others who didn't have that level of support," she said. "It was tough to see. You realize there are people who are even worse off than you are."
She and her mother reached out to those patients, Palsey said, and remain in touch with one patient and his wife.
Pasley gave the opening speech at last year's De Soto Relay for Life. Two months from the end of the treatment, she was still bald and so weak she made one trip around the De Soto High School track. She'll be back this year to walk more, she said.
"More people are being diagnosed, but more people are being saved," she said. "Hopefully, that's because of fundraisers like Relay for Life we've done."
Her own experience proves the benefit of early treatment and realizing there is hope even with a bad diagnosis, Pasley said.
"Be aware of your body and what's going on," she said. "If you feel like something's not right, go with your gut.
"Stay strong. Let people help you, turn to God and stay positive as much as you can. My faith and family is what got me through."