Organ recipients work to build awareness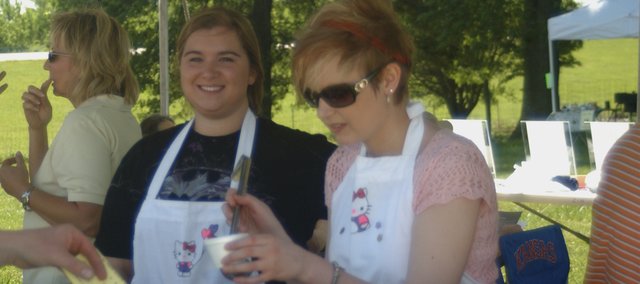 Libby Stone had a busy day Saturday spooning out chili at the De Soto Rotary Club's Chili Cook-off she couldn't have eaten two years ago.
Before her liver transplant near Thanksgiving 2007, Stone's liver couldn't process meat and many other foods, forcing her to subsist on a very limited diet, gradually losing strength to the effects of a rare genetic condition.
The Rotary Club's annual Chili Cook-off has a special place for Libby and her family. In the fall of 2006, the Rotary Club's cook-off was one of a series of community events that raised money to help the Stones with expenses associated with Libby's transplant.
"It's kind of a big thing for me," Libby said. "Two and half years ago, we where here for a fundraiser for my transplant. Looking back, it's been a really good experience for me."
Libby's mother Robin is now a Rotarian and was an organizer of this year's cook-off. So it should be no surprise the benefactor of Saturday's fundraiser was the Kansas City Gift of Life Foundation and its mentoring and classroom programs.
The classroom program sends transplant recipients into schools to inform students of the importance of organ transplants, said Dave Jeter, a heart transplant survivor.
"The main thing is to build awareness a gift of organs and tissue could save a life," he said. "We go into classrooms; we talk to service organizations and corporate events. We'll talk to anybody if they're interested."
In the mentor program, transplant recipients assigned and trained in hospitals where they had their transplants, visit patients slated for transplants to give them a first-hand accounts of what life on the other side of the surgery can be like, said the program's manager Andy Donnelly.
"The idea is to give people faced with a major medical problem encouragement in going forward," he said. "We have fifty monitoring cases on the book, and thirty trained mentors."
The program works, said liver transplant recipient Andy Staley. She was inspired when she learned it had been 20 years since her mentor had his transplant.
"He's my goal now," she said. "I'm going to do it, too."
The transplant recipients at the cook-off had various experiences on waiting lists from hours to months or even years.
Jeter said he and the other local recipients were also fortunate they lived in the Midlands, where organ donors were more common than on the East and West coasts. The Kansas University Medical Center has one of the shortest liver transplant waiting lists in the U.S., he said.
But not all referrals end with transplants. One-in-17 people on waiting lists dies before an organ becomes available, Donnelly said.
"It's part of the equation," he said.
That hard reality explains the gratitude the recipients have for those who made their organs available. Libby said the donated liver she received saved two lives as her liver functioned fine in someone without her genetic condition. Her liver was transplanted into a 20-year-old girl, who she came to know as they recovered on the same floor, she said.
Seventeen months after her transplant, Libby is enrolled in Johnson County Community College with plans on transferring to the University of Missouri next spring to study animal science.
"I'm excited about getting everything lined up and start living my life," she said. "The future is open. I've decided to go for it."