Baseball finishes year strong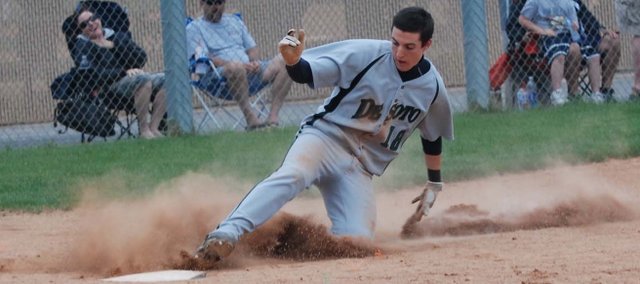 Five games into the 2009 baseball season when the Wildcats were 1-4, things were looking grim for coach Joel Thaemert's bunch.
Then all of a sudden things began to click. The Wildcats won 10 of their next 12 and soared toward the top of the Frontier League. De Soto earned a 12-10 overall record, tallying big wins against Lansing, Mill Valley, Gardner and Jeff-West that allowed the squad to advance past the first round of regionals.
Overall, Thaemert was most pleased with way his team performed and rebounded from a rocky start.
"We got better throughout the season," he said. "We played our best ball at the end of the year."
The Wildcats eventually were eliminated by a league foe, the Ottawa Cyclones, in round two of regionals. Thaemert was not overly disappointed with the loss, however, considering the Cyclones advanced to the state semifinals.
"I felt a little better after seeing how well Ottawa did this year," Thaemert said. "The way we played at the end of the season was certainly encouraging."
The coach believes the team needs to develop some more consistent run support and get better defensively if it wants to reach state contender-status in 2010.
Daniel Peterson and Kyle McCulloch were two stalwarts on the mound for the Wildcats. Peterson was a second-team all-League pitcher, and McCulloch was honorable mention. Logan Clark, Dylan Burford, Dalton Thompson, Lyle Logan, Paul Oswald and Tommy Elmer were also all-league selections.
"We have a lot of guys returning which bodes well for the future," Thaemert said.