Great at state
Townsend wins long jump, boys 4th at state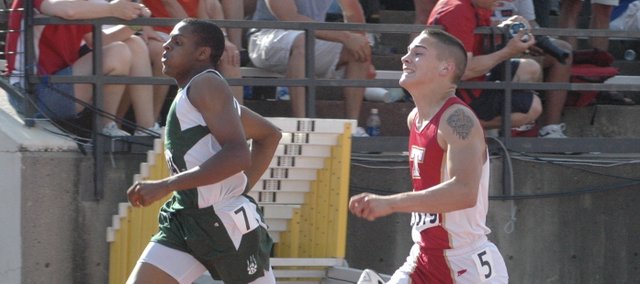 Photo Gallery
Successful run at state
Several De Soto track athletes competed Friday and Saturday in the Class 4A state track meet at Cessna Stadium in Wichita. The De Soto boys finished fourth as a team and the girls finished 15th.
Add another highlight to the reel that is Jamel Townsend's high school sports career.
A star on the basketball court and football field, Townsend demonstrated his prowess on the track at the state championships in Wichita Saturday after taking home the gold in the long jump.
Townsend leaped an astonishing 23-feet, 4 inches, which was the second best jump in the entire state.
"I wouldn't call Jamel winning state a surprise, but it was unexpected considering last year's state champion competed again this year," coach Brian Dinkel said. "Then Jamel ended up beating him. We all had a really good meet."
Townsend led the boys squad to a fourth-place finish in the state, a result that made Dinkel quite proud.
"Coming into the meet, we weren't quite sure where we'd finish. It was hard telling," Dinkel said. "I figured we'd bring home some hardware, but I wasn't sure we'd do as well as we did."
Jordan Riffel, while he didn't win a state title like his senior teammate, spent the weekend etching his name in the De Soto record books. Riffel took second in the 100-meter dash, which was no surprise after the sub-11 second time he turned in at the regional meet.
"Jordan getting second in state was pretty cool," Dinkel said. "It was the first time since 1968 that a De Soto kid has placed in the 100-meter."
Colin Jokisch also made his final track meet of his career a memorable one, placing sixth in the 3,200-meter with a time of 10:02.66.
"Colin ran really well again," Dinkel said. "He came back right at the end to place that high. He passed a lot of guys in his kick right at the finish line."
The De Soto girls as a team didn't place as high as their more experienced counterparts and finished 15th overall. Several individuals turned in solid performances at the state championships, however.
Dinkel was particularly pleased with Lacey Erickson, who placed third in the 800-meter, and the 4x800 relay team.
"The 4x800-meter team finished in third and set a school record," he said. "And Lacey had another really good meet. She had a real photo finish in the 800 and had an awesome season all year long. To have a finish like that was icing on the cake."
Dinkel said he was excited for next year because his squad will return many young athletes with a high potential for growth.
"The girls team was basically all sophomores this year," he said. "So we'll return all those girls who qualified for state. It should be another great season next year. I'm looking forward to seeing all the athletes progress."