De Soto 4-H'ers show off projects in advance of fair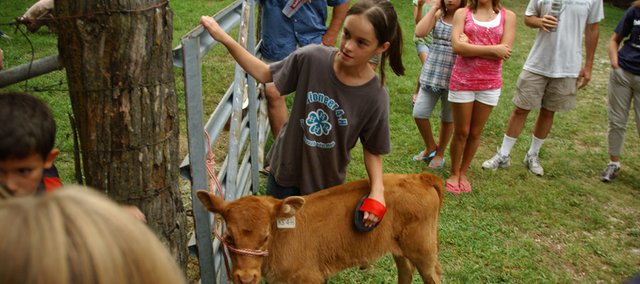 Surrounded by her fellow Pioneer 4-H Club members and their families, Gabrielle Mallozzi softly spoke of her Johnson County Fair cooking project.
The 10-year-old De Soto girl will take orange cranberry muffins to the fair. Gabrielle has a lot to live up to, having won a top-purple ribbon a year ago for her poppy seed muffins. Her father, Guy Mallozzi, said this year's effort was competitive.
"If I say so myself, they are delicious," he said.
At their annual pre-fair club tour that stopped at Zimmerman's Kill Creek Farm and the Denise and David King farmstead, Pioneer 4-H'ers showed off their projects and the diversity of experiences 4-H offers youngsters. Projects on display or the subject of reports included such agricultural standards as swine, sheep, bucket calves, market steers and poultry.
But there were also presentations on art, photography, rocketry and entomology collections.
Clarissa Shields, 17, has been involved in many of those activities in her 10 years in 4-H. She taken sheep to the fair in past years, but has scaled back to a rabbit in her last year in 4-H.
Still, Shields said the past activities did much to prepare her for what she hopes will be a career in elementary education.
"I've done a lot — food, crafts and sheep," said the 2007 Johnson County Miss 4-H. "4-H really prepares you for becoming an adult. Taking care of animals, public speaking, all help you grow into a more well-rounded young adult."
Shortly before Shields report on her rabbit, Henry Hanson told the group for what he'd learned from raising his two-year-old market steer, Spot Suki.
"When you have a cow, you have to show then who is boss," he said. "Because they will walk awhile and stop and not care what you think."
Learning to handle livestock builds confidence in children, Henry's mother Debbie Hanson said.
Brenna Zimmerman is taking the first step in gaining that confidence with her bucket calf Scooter her family found for her on Craig's List at the end of May. But the girl's mother Karen Zimmerman said it was then Brenna's responsibility.
To do well at the fair, Brenna will have to prove to the judges she, and not her parents, was taking care of the calf.
"The biggest part is the interview," Karen said. "They do go in the arena to show, but they want to know she is taking care of it."
With three children active in 4-H, few families will have as busy a week as the Zimmermans of De Soto.
"We're going to borrow a camper and stay down there," mother Karen Zimmerman said.
Fourteen-year-old Micah Sanders said she was hoping to do well at the fair at the sheep show. The Lenexa girl who will start her freshman year at De Soto High School next month said
"I like the rewards of sheep, but I don't necessarily like all the work that goes with it," she said. "But you show your sheep with friends, so it's kind of a social thing."
Learning the value of work and extra effort were lessons she took from her 4-H experience, Micah said.
"I've learned a little hard work can do a long way," she said. "If you go to meetings and apply yourself, you really do much better than those who go and don't listen."