Wildcats end baseball season with 25-9 win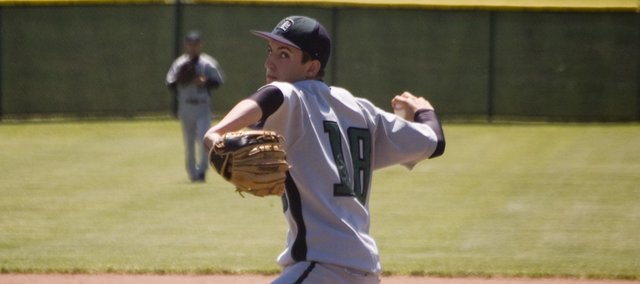 It's not often a player gives a performance so statistically mind-boggling that the only chant his team can come up with during the post-game celebration is the player's name.
"Eric Seymour!" a teammate loudly suggested after the Wildcats' 25-9 win against Bonner Springs.
The chant was certainly justified as Seymour nearly single-handily fatigued the fingers of the scorekeeper last Wednesday at the 3 & 2 fields in Lenexa. The senior, and starting pitcher, tallied nine RBIs to match the Braves' entire lineup.
The rest of his stat line: A measly 5-for-5 with three home runs and a double.
"The pitcher left me a lot of pitches high and inside," Seymour said. "I knew all I had to do all night was just turn on it."
While Seymour's game alone could have provided a nice highlight reel, the rest of the De Soto baseball squad also ended its season in style. The Wildcats batted around in the third inning and ended the contest in the fourth inning on account of the run-rule.
"Everybody brought their bats tonight," coach Darren Erpelding said. "We were just a much better team than they were."
De Soto couldn't have asked for a better start to its season finale. Jordan Riffel opened the first inning with a single and Tyler Buffkin walked. Then Seymour started his stellar contest with an RBI single down the third base line.
After taking a 4-0 lead into the bottom of the first, the Wildcats allowed four Braves' runs to tie the game. The deadlocked was short-lived, however, as a five-run second inning and a seven-run third inning put the game out of reach.
Defensive short-comings by Bonner led to a bases loaded situation to open the second inning for Seymour.
Facing a 2-0 count, the senior blasted a hanging breaking ball over the left field wall for a grand slam that brought the few fans in attendance to their feet and emptied the De Soto dugout.
"It was kind of funny," Seymour said. "I actually hit the first one off the handle. The pitch was right in on my hands but I was able to get it out."
Regardless, the Wildcats were just getting started.
In the very next inning, after Bonner pitching walked in three runs in a row, Matt Hamilton stepped to the plate with the bases still juiced. Doing his best Seymour impression, Hamilton smacked a grand slam of his own, bringing the score to 16-6.
In addition to his big bat, Hamilton provided a solid outing in relief on the mound, freezing several Bonner batters with a slow moving curve.
Seymour added his third home run in the top of the fourth inning — this time a three-run shot over the same left field wall.
Erpelding brought in Daniel Peterson in the bottom of the fourth to close out the game.
"(Daniel) asked me in the dugout if he could close it out once the run-rule was in effect," Erpelding said. "So when we were up big I decided to let him throw and end the game."