All-around athlete
DHS

senior finds success in four different sports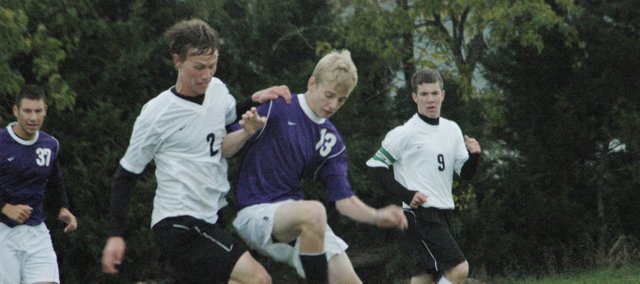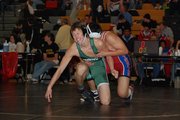 If De Soto senior Jordan Slater knows the definition of a break or a breather, he sure hasn't shown it in the past six years.
Slater, a true jack-of-all-trades, takes involvement to a whole new level, participating and excelling at a variety of sports and activities both within and outside the school district.
"Jordan is just an awesome kid," De Soto soccer coach Darren Erpelding said. "As hard as he works on the field and in the weight room, he works just as hard in the classroom. He's a very well-rounded young man."
Erpelding's praise is derived from three years of coaching Slater on the boys soccer team at De Soto. Soccer, perhaps the most conventional of his activities, is also Slater's favorite sport.
Or at least it was for a while.
A few years ago Slater added another athletic hobby to his extensive resume that already consists of soccer, pole vaulting and wrestling: jujitsu.
And it is quickly rising on his chart of favorite things to do with his free time.
"A couple of my friends from church got me into jujitsu a while back," Slater said. "They showed me some stuff and I really fell in love with it. Now I have mats in my basement and my friends and I grapple all the time."
For those unfamiliar with the sport, jujitsu is a brand of martial arts similar to wrestling that involves a great deal of balance, strength and throwing.
In response to his new fascination with jujitsu, it only seemed natural for Slater to sign up for Shannon Sawner's wrestling program last winter.
"Jujitsu helped me adapt to wrestling pretty quick," Slater said. "I had never wrestled before last year, and really, I just did it to help with jujitsu."
And Sawner was glad he did.
"For a first-year, he's pretty good," Sawner said. "You can definitely tell he had grappling experience. I sure hope he's going to come back."
As of now, Slater's plans are to return to Sawner's squad for his senior year. And unfortunately for his future opponents, the differences between jujitsu and wrestling will be minimal for the honor roll student to grasp in his second year.
"It took him a little while at first to get used to (wrestling) because the scoring and the moves are different," Sawner said. "But all in all, he picked it up pretty quickly."
But before he hits the mats this winter, Slater will take to Erpelding's pitch for what appears to be a promising fall soccer campaign.
Slater has played an integral role for the Wildcats since he was a sophomore, and his strong play for the Kansas City Legends and the Wildcats' summer team indicate this year will likely be no different.
"He's a key player for us, he played almost every minute last year and I expect him to play almost every minute this year," Erpelding said. "He's aggressive, with very good balance, and he's hard to knock off the ball."
Erpelding believes part of that success, in addition to some other qualities, spawned from Slater's jujitsu training.
"I think his jujitsu has helped with his lateral quickness as well as his mental toughness," he said. "When we're conditioning he's always pushing the other guys, does everything full speed and works really hard."
Slater agrees that the mentality jujitsu requires provides him with an advantage in all of his athletic endeavors. In fact, after he graduates, Slater said he's even considering entering the Ulitmate Fighting Championship series.
"There are some gyms in Lenexa and around the area that I might look into after everything else slows down."