Getting stronger
New strength coach helps athletes make progress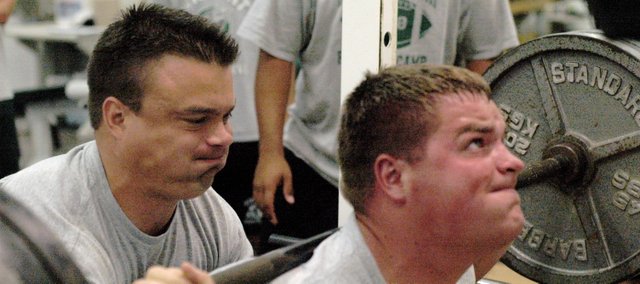 If the De Soto High School athletes look bigger, stronger, faster, or some combination of the three, there's a new man to thank.
Brian King, the strength and conditioning coach for the Wildcats' sports programs, began working at the high school June 2 after leaving his post at Royal Valley.
There, as the strength and conditioning coach, King was instrumental in getting the school's power lifting team off the ground. His experience, coupled with his passion for teaching and coaching, has already helped the Wildcats make progress toward becoming better competitors in the fall of 2009.
"He's done a tremendous job with our athletes," football coach Tom Byers said. "He's helped our team work hard in the weight room and has been valuable for all the different programs."
King, too, noticed the improvements in the athletes' conditioning since he's arrived.
"At the beginning of the summer the kids weren't very flexible and didn't look strong in an athletic position," he said. "There's been a lot more progress in two months than I would have thought."
King said he was pleased when De Soto offered him the position because of the excellent school district — he has a 21-month old daughter named Addison —and the city's reputation as a fast-growing community.
And judging by the attendance numbers at his summer training sessions, it appears De Soto athletes are happy to have him.
"The first couple days of summer we had about 220 kids come in and train every morning," he said. "So our numbers have been solid. Our kids have been working hard. Sometimes it's challenging to get kids in the weight room because they've got so many other things going on during the summers, but we've done pretty well."
King runs his training sessions on a four-day split, meaning the kids come in Mondays, Tuesdays, Thursdays and Fridays. The athletes are divided into groups — according to either age or sport — and sessions run for about four hours in the morning.
"We cover every program," he said. "We've had soccer, basketball, football, track and others."
The summer training sessions are tailored to each specific sport, but King said his emphases remain the same for all the athletes.
"We work primarily on triple extensions and explosive Olympic lifts," he said. "These lifts, which focus on transferring power from the glutes to the hamstrings, help athletes run faster and jump higher."
The Wildcats will see just how much they've gained July 31 when their new coach issues his strength and fitness tests to them.
"We're going to test their squat, hang clean, bench press, vertical jump, and 40-yard dash," he said.