Cross country team bonds during trip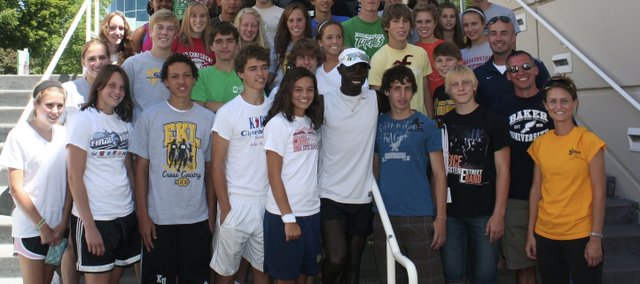 Escaping Kansas' notorious summer humidity, Chris McAfee and several members of the De Soto cross country team went to Colorado Springs, Colo., last week for a fun-filled preseason.
An idea coach McAfee was kicking around since spring, the five-day trip served as a hiatus from normal training and gave the kids an opportunity to run some scenic trails and bond as a group.
"It was a lot of fun hanging out with the team," sophomore Aaron Garza said. "It was great to get to know some of the people better."
The group, which included 23 kids and six parents, left at 9 a.m. July 12 and returned home July 16. The athletes left Colorado Springs with a number of memories, but chief among the highlights was when they met Lopez Lomong at the United States Olympic Training Center.
Lomong is the US champion in the 1,500-meters and carried the red, white and blue flag during the 2008 Olympic opening ceremony in Beijing.
"He talked to the team for 30 to 40 minutes and signed autographs," McAfee said. "It was a really unique experience for the kids."
From a running perspective, the team enjoyed training in a beautiful environment that included trails near Pikes Peak, the North Cheyenne Canyon, Palmer Park and Garden of the Gods. McAfee said he was particularly fond of the run at the Cheyenne Canyon because of the views the runners earned once they made it all the way to the top.
"That trail was tough, but the guys who made it to the top said it was one of the most beautiful views they had ever seen," he said.
Beauty aside, the canyon trail also offered the runners some practicality as the team used the scenic creek that flows through the gorge to dip their feet and cool their bodies.
"It was pretty cold, just like an ice bath back in De Soto," McAfee joked.
Garza said he most enjoyed Sunday night's run at the Garden of the Gods.
"It was a really awesome trail," he said. "The whole trip we went on some really great trails, all of them had good scenery."
The team later met up with St. Thomas Aquinas' cross country squad for a run in Palmer Park and ended the day with a barbecue in the middle of the red rocks at Garden of the Gods.
"It was a nice opportunity for the kids to meet and spend time with some runners from another school," McAfee said.
The team returned to De Soto excited about this season and eager to put the conditioning gained on its trip to the test.
"I think we're doing better than we were doing last year," Garza said. "We're all ready to get started."
More like this story