Competition strong at camp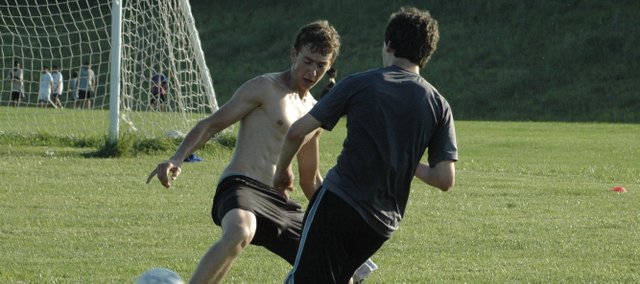 Despite soccer season still being more than a month away, players were buzzing and appeared to be ready to get things underway during last week's summer camp.
Soccer coach Darren Erpelding arranged for any boy who wished to try out for the soccer program to get a few practices in from 5 to 8 p.m. on Monday through Thursday at the De Soto practice fields.
"It was a good opportunity for the guys to get together and for the coaches to see who plays well where," Erpelding said.
The nights often began with some crossing and finishing drills as well as small-sided games before the team moved to11-on-11.
Erpelding said he wanted to give the boys lots of opportunities to show what they could do with a ball at their feet rather than conditioning because most of them have attended summer fitness sessions in the mornings.
"They know (the coaches) are watching," he added. "We're letting them play a lot and they know they have to be at their best day in and day out."
The freshmen, the group that perhaps has the most to prove to the coaches, succeeded in showing Erpelding what they could give the program.
"Those guys really impressed me," he said. "They played well. Our JV team should be strong. And having a strong JV is always good because you want to develop depth in the program."
And while Erpelding said none of the veterans truly stuck out, he believes the squad as a whole played good soccer throughout the week and will be ready for a tough conference schedule next year.
"It's hard to judge some of the older guys' growth just because I see them every day," he said. "But they look good and are playing about how I would expect them to play."
Sammy Seibolt is one of the nine De Soto starters returning next season. He said he's been pleased with the level of play by the youngsters and is encouraged by the squad's skills.
"We're playing the ball pretty quickly and have had several guys step up," Seibolt said. "Our goal is to have a good league schedule and advance to the state tournament."
Those goals appear attainable as Erpelding's team only lost four seniors last year to graduation.
"I'm really excited for next season," he said. "We'll need to play well if we want to win games because the Frontier League is tough. Ottawa is getting better and Gardner is always strong."