New floodplain maps become effective Aug. 3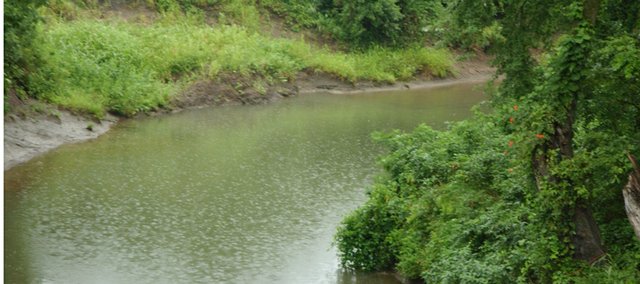 Those who were informed this month their homes near Cedar and Kill creeks will be in the newly adopted floodplain maps are encouraged to purchase flood insurance before Aug. 3.
The redrawn maps were part of an 11-year effort to redefine all seven of Johnson County's major watersheds began after a flash flood in October 1998 inundated a large number of homes in the eastern part of the county, said Kent Lage, manager of Johnson County Public Works Urban Service Division.
The new floodplain along Kill Creek replaces one adopted in the 1970s and raises the floodplain as much as 4 feet is some locations.
Lage said the study that led to the upgraded maps was much more extensive and expensive than the one used to produce the1970s map. It took advantage of more complete topographical and drainage information and computer software, he said
The city of De Soto adopted the new maps for Cedar and Kill creeks earlier this month. De Soto city engineer told the council there was little choice if homes in the city were to be eligible for U.S. Federal Emergency Management Administration flood insurance.
As many as 26 homes in De Soto not in the old map's floodplain could be in the newly adopted maps, Brungardt said. Twenty-three of those homes are in De Meadows, two are in Oak Country and one along Cedar Creek.
City officials first learned of the consequences of the new maps on residents along Kill Creek five years ago and took steps to inform residents of the coming changes, including an informational meeting in October 2004.
Postcards were sent to all those homeowners last week informing them the changes, Brungardt said.
The postcards urged residents with homes to be newly placed in the floodplain to get flood insurance by Aug. 3. The old maps will still be affective for policies purchased before that date, Brungardt said. Rates could double should residents buy flood insurance — required by mortgage holders of homes in the floodplain — after that deadline.
Homeowners taking advantage of window don't have to worry about insurance companies later canceling or challenging the policies, Brungardt said. FEMA established the window for the propose of allowing homeowners newly placed in floodplains to get insurance at better rates, he said.
Among the 26 homes to be newly included in the floodplain maps are seven close enough to the new designated flood elevations that they could possibly be removed with some mitigation efforts, Brungardt said. In some cases, that could mean as little has constructing a small berm in front of a window well, he said.
Brungradt will survey properties whose owners have undertook mitigation efforts to certify they were out of the floodplain. He did one such survey Tuesday, the only one he has performed to date.
Such action might remove a home for floodplain in the new maps and a rider on the property's deed, but it wouldn't remove the threat of flooding, especially for homes mere inches above the floodplain, Brungardt cautioned.
In addition, Brungardt and Lage warn the adopted floodplain reflect the current level of development upstream. Kill and Cedar creeks are two the counties more undeveloped watershed and their floodplains rise raise again when develop occurs upstream, they said.
When the council approved the new maps, De Soto Mayor Dave Anderson said the city needed to keep that in mind and monitor development upstream to ensure proper drainage steps were taken.
More like this story