Flashback to the 80s in 'The Wedding Singer'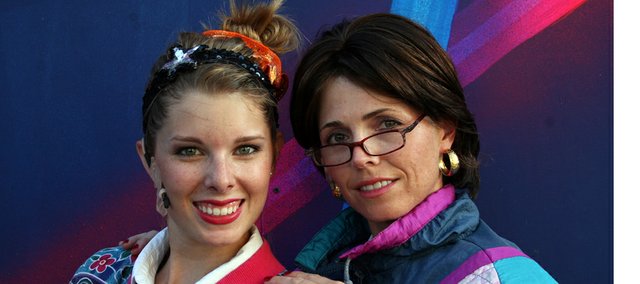 The 80s are back and the hair is bigger than ever at Shawnee's Theatre in the Park presentation of "The Wedding Singer."
Three of the colorful characters who make-up "The Wedding Singer" are played by De Soto area residents Mackenzie Lollar and Erica Baruth.
Lollar plays two characters, although one is only part of one scene.
"The show opens at a wedding," Lollar said. "And the wedding singer is opening up and I happen to be the bride. I have a small featured dancing part but there are no speaking parts."
Lollar's other character, Crystal, is what she calls a "cameo appearance character."
"She has a lot of attitude and mainly my part is to just have a big attitude and control my fiancé," she said.
In one scene, Crystal makes her fiancee hold her purse while making a gift registry.
"I'm definitely in charge in the relationship,"she said.
Lollar said taking on the part was a bit of a challenge.
"I don't have a that big of an attitude. Even thought I don't have that many lines, it was still a challenge to develop that character," she said.
Baruth plays Angie, the mother of Julia, one of the lead characters.
"She is a spunky lady who has gone though what appears to be a rocky marriage," Baruth said of her character. "She always refers to her husband with a jaded attitude."
While this is Baruth's second year working with TTIP, Lollar has participated since she was in eighth grade. She'll begin her sophomore year of college in the fall.
"This is my seventh show," she said. "I just love performing, I don't care if I'm in the chorus or not. I have so many great friends with Theatre in the Park. I will always participate. Being paid is not a factor. It doesn't faze me that I don't get paid."
Lollar chooses to hone her acting skills with Theatre in the Park, while Baruth has performed for the Olathe Community Theatre and the Barn Players. Baruth sticks close to the musical-opera genre, so "The Wedding Singer" was a bit different.
"It's very different," she said. "But it's a comedy and I love comedy. It hasn't been performed before. It came through Kansas City on tour, but not many people have seen a show of this nature. It's hilarious. It's slapstick."
Aside from humor, the show is vocal and dance heavy, Lollar said.
"There is a lot of dancing. There are at least six large production numbers," she said.
With dancing, singing and comedy, "The Wedding Singer" has something for everyone, but Lollar and Baruth stress the nature of the show may not be appropriate for young children.
The production comes with a PG-13 rating.
Baruth said the production is still a family show, but more for teenagers then for elementary school kids.
"People just need to be aware that kids 10 and younger won't understand the humor.
Lollar said despite the rating, theatre-goers should expect a great show.
"People should expect a really, really great show with top talent and dance choreography," she said. "It's definitely a trip back to the 80s."
"The Wedding Singer" opens at 7 p.m. Friday at Shawnee Mission Park.