Grapplers competitive at camp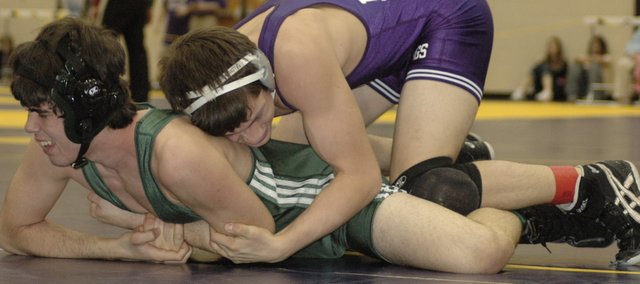 The De Soto wrestling team gathered last week for the first time as a squad since its winter season ended for its summer camp at Spring Hill High School.
"Spring Hill has some phenomenal new facilities," wrestling coach Shannon Sawner said. "It was a good opportunity to kind of compete on a smaller scale."
Thirteen Wildcat grapplers attended the camp — a turnout that pleased Sawner.
"Most of the guys were returners, but we also had a couple incoming freshmen come to the camp," he said. "I think the kids enjoyed themselves. Overall the camp went well."
One perk the camp brought the wrestlers was the tutelage of wrestling mastermind Bob Smith.
"Bob Smith is a well-known coach from Colorado who has been inducted in several halls of fame," Sawner said. "He came in and helped teach the kids some things."
Sawner said Smith, along with the other coaches, stressed wrestling technique from the standing position, which was a change from previous years.
"We worked on escapes and pins a little bit, but the emphasis was on takedowns and wrestling from your feet," Sawner said.
The itinerary for the three days provided the wrestlers with several opportunities to improve as the coaches scheduled two hours in the afternoon for the kids to be on the mat. The days started with technique sessions in the morning before they were allotted an hour for lunch.
The Wildcats' performances at camp excited Sawner as three of his wrestlers — Brandon Vukas, Donny Parr and Christian Zwhalen — won their brackets in the takedown challenge on Thursday.
"Vukas and Parr have been improving quite a bit," Sawner said. "Those guys have been wrestling all summer. They went to camp in Baldwin at Baker University, and they also went to a camp at Missouri."
Encouraged by his team's effort and improvement in the offseason, Sawner said he anticipates next season to bring more success than last winter.
"I think we have a good group," he said. "We have a chance to be pretty competitive. It's a small group, we're only going to have two or three seniors again, but there's a good group of juniors that have been around for three years. I'm pretty excited about that."
More like this story