Energetic effort
Wildcats show enthusiasm at
DHS

football camp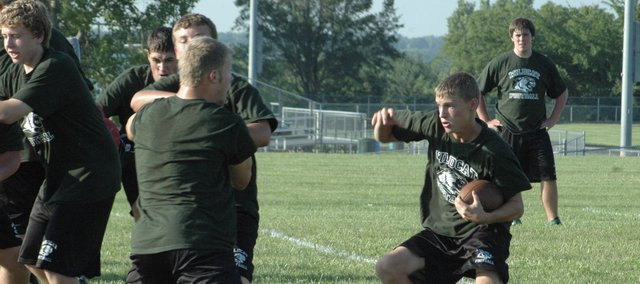 If high school football games were won and lost by passion and enthusiasm alone, the De Soto Wildcats might have a championship lurking in their future.
This was evident at football camp Monday night in De Soto as hoots and hollers from more than 40 football players could be heard across both practice fields, up the hill, and all the way to the far side of the soccer field.
"We want to have fun this week," head football coach Tom Byers said. "And they are. We want to build some excitement and this camp is a great way to create some enthusiasm."
The camp, which runs from 6 p.m. to 8 p.m., is intended for freshmen through seniors. Byers said he's been pleased with the turnout at the strength and conditioning sessions this summer and that commitment has transferred to the camp's attendance this week.
"The strength and conditioning coaches have done a tremendous job this summer," Byers said. "We're pleased with the effort levels and I can tell the summer workouts have paid off."
Byers said the primary focus for the week was to continue working on fundamentals and improving the players' technique at all the different positions.
After some conditioning drills to open practice, Byers split the team up into different sections to work on position-specific skills. The wide receivers worked on route running while the quarterbacks practiced taking snaps. The running backs performed agility drills, bursting in and out of holes and jumping over pads.
At the end of the training session, Byers implemented a little sled-driving competition to see which class could push the sled the fastest over the goal line. An intense battle between the juniors and seniors ensued, with the junior heavyweights coming out on top.
"I wanted to finish the first day with something competitive," he said. "It ended a really great practice today."
The Wildcats will be able to strap on their pads for the first time on August 20, just 16 days before their first game against Gardner-Edgerton.
"The guys are ready to get things started," he said. "For the past couple years we've been right around .500, so we're trying to take that next step. We want to build off of everything Coach (Brad) Scott did here."
More like this story