Record-setting senior
Price etches name into school, state record book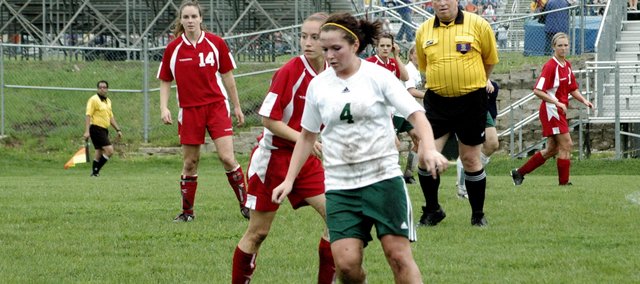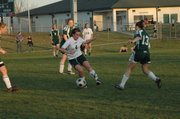 Take a look at the De Soto girls soccer record book, and Danielle Price's name is written all over it.
Price, who graduated in May, ends her career at De Soto first in career points (186) and assists (54). She also has the most points in a game (12) and assists in a game (4). She is also second on the list in career goals (66), points in a season (86) and goals in a season (30).
"I just kind of play to win," Price said. "I mean getting goals and stuff is always nice, but you always have to pay to win."
Price, who is soft-spoken, credits her coaches and teammates for her numbers, but it was her own unselfish play that put her name in the state record books.
This spring, Price the set the state record for assists in a season with 26. Teamed with junior Carly Stanley, who was Frontier League MVP and first team all-state, the girls soccer team dominated on the scoreboard and rewrote the DHS record book.
"It wasn't really my goal as a player," Price said of setting the state record. "But at the beginning of the season in the first game I got a whole bunch of assists, and I told Carly, 'I'm going for the assist record this season.' I said it just jokingly, and it actually happened."
In that first match against Spring Hill, Price scored three goals and had four assists, while Stanley kicked in seven goals in the contest. From there, the Wildcats crushed opponents and went on to finish the year 11-6-1. The 11 wins tied the school record for most wins in a season.
Price was a first team All-Frontier League and second team All-State pick. Price's 30 goals this season were the second most in school history. Stanley set the school record with 39 goals this year, many of those coming on assists from Price.
"If she wasn't on the team, I probably would have gotten about 15 goals," Stanley said. "She helped me so much."
With Price and Stanley in the middle, opponents were no match for De Soto's offensive attack. This season, De Soto set school season records in goals scored (80), points (215), assists (65) and shutouts (8). De Soto also set the school record for goals in a game with 11.
"To fill up the record book kind of like she has is a testament to what she's done from the time she was 4 or 5 years old," De Soto soccer coach Darren Erpelding said.
Price started playing club soccer at an early age, and played year-round.
"When you do that you learn those things at such a young age and it helps you as you get older because now it becomes second nature to you," Erpelding said. "And she's been able to do things on the ball that a lot of girls don't think about. And by playing so many games, her field vision is extremely good because she's able to find a lot of cracks and little creases that others don't see. And she is willing to take a chance to make those plays. She just loves the game and loves being around it."
Though her career at De Soto is over, Price will continue her soccer career this fall at Avila University.
"I'm really excited," Price said. "I've met a few girls on the team and they're all really nice. I'm just really excited to play again and play at the next level. And hopefully I'll have as good a season as I did in high school."
More like this story