Five Questions: Blooms and Produce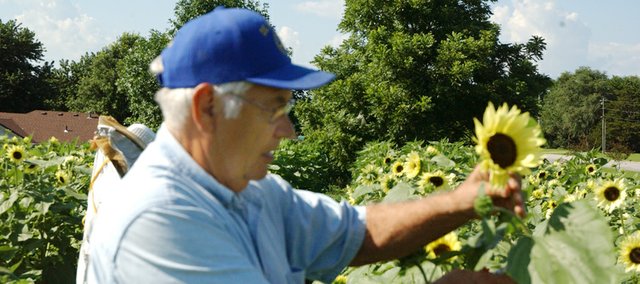 Q: The first farmers' market was July 1. How did that go?
A: We must have had 300 people here. We had 15 vendors. New this year is Kathy Landers with her goat cheese.
Q: Did you have any tomatoes? 
A: Not the first week, but we will this week (Wednesday) and through the end of the season. We'll probably run out this week. That's what people want.
We had green beans, squash, sweet corn and all the other things, but no tomatoes yet. We'll have sweet corn until the end of the season. There's a guy from Edwardsville who said he would have sweet corn here every week.
  Q: The De Soto Rotary Club is also selling sunflower bouquets as a fundraiser to help eradicate polio during the farmers' market. The sunflowers were your idea. Where did you get it? 
A: I stole it. There was a guy in New England who raised them for the Make a Wish Foundation.
Q: How much longer will they be available?
A: We started selling them at the first farmers' market. We also sold them on Saturday and Sunday. So far, we've raised $600.
We'll sell them again starting at 9 a.m. Saturday and Sunday. After that they will probably be gone.
Q: How much to they cost? 
A: A bouquet is $10.