Cats showcase skills at 7-on-7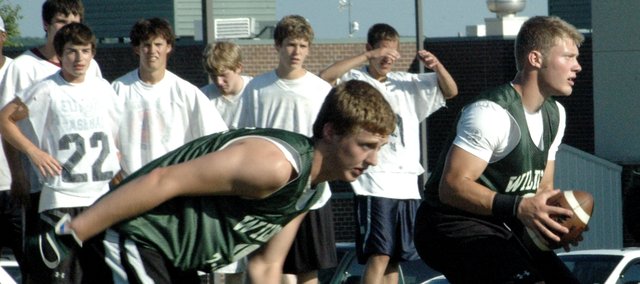 If Monday's 7-on-7 scrimmages were any indication of what's to come for the De Soto football team, the rest of the Frontier League needs to watch out.
The skill position players for the Wildcats showcased their athleticism against Eudora and St. James and appear eager to get the 2009 season underway.
Quarterback Logan Clark showed a great deal of arm strength in the Wildcats' final scrimmages of the summer, connecting several bullets over the middle to an array of De Soto receivers.
Clark's favorite target early was Caleb Adkins. Adkins caught three touchdown passes from Clark on a variety of route patterns, including a beautiful over-the-shoulder catch in the back corner of the end zone. He also turned a 5-yard screen pass into a 40-yard touchdown play with some nifty open field running on the Wildcats' last possession against the Cardinals.
De Soto's tight end Daniel Peterson also displayed some safe hands for a big man as he hauled in a good-looking touch-pass from Clark early in the first scrimmage.
Peterson then got under center in the second game for one possession and demonstrated his strong pitching arm, zipping a few passes against St. James' secondary.
"Those are the things we want our guys to work on during 7-on-7," De Soto football coach Tom Byers said. "It's a good opportunity to run better routes, learn to shake people and practice the finer points of the passing game."
De Soto will return four offensive starters to next year's team.
In addition to making some connections on offense, the secondary for De Soto also appeared to be on top of its game. Safety Austin Cook intercepted two passes in the first game after coming over the top to help his cornerbacks.
"We're returning six guys on defense next year, so we have some guys with some experience," Byers said. "But these 7-on-7's are still good to teach kids how to cover someone, especially with the way high school football has evolved. It's equally good for the defenders."
Byers added that he was pleased with the way his players performed during the summer scrimmages and believes the practices has shown his team has more depth than in previous years.
"Obviously the key is to create depth," he said. "You have to develop the program at all the levels, that's why we have freshmen and J.V. football teams."