Catching on
Football proves to be the perfect sport for Burnett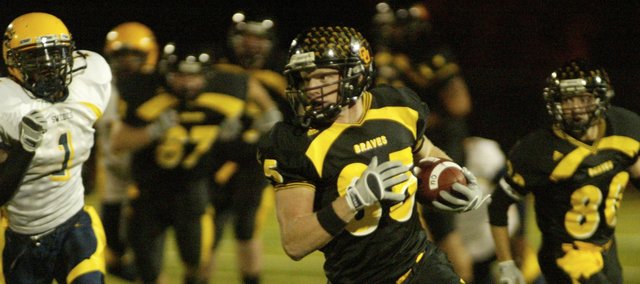 Great distance traveled is not always the prerequisite for coming a long way. Just ask Taylor Burnett.
An All-American this year at nearby Ottawa University, Burnett has grown into quite the football player for the Braves, which is a long way from where he was seven years ago.
"When I first got to high school I wasn't even sure I wanted to play football," Burnett said. "Then Brad Scott talked me into it. He told me if I came out to camp he'd pay for it and that I should just give it a try."
Four years of varsity football and a league title later it appeared Scott, the former Wildcats football coach, had made a good decision when he pressured Burnett to take the leap.
"I got into camp that first week of high school and just loved it," Burnett said. "I got the opportunity to start varsity as a freshman. Football at De Soto was a great experience."
Chief among the reasons why football at De Soto was so monumental in Burnett's development was his coaches' commitment to their players. Burnett said Scott and his assistants achieved a nice balance between teaching the game and ensuring the players enjoyed themselves.
"The staff at De Soto did anything they could to help out the kids," Burnett said. "They worked hard to teach us how to win and be good players, but we had a lot of fun, too."
Fast forward a few years and Burnett is still having fun. And when looking at his college statistics, it's not difficult to see why.
As a junior last season Burnett caught 40 passes and scored seven touchdowns — a feat that did not go unnoticed by the All-America voters and his head coach at Ottawa, Kent Kessinger.
"He was a big target to hit," Kessinger said. "He scored three or four touchdowns on pass plays where he wasn't even the primary receiver."
Ever-humble with his accomplishments, however, Burnett said the guys around him allowed for his breakout season.
"My teammates helped make things easier for me," he said. "The way I kind of look at it, I just had to put up my hands and our quarterback would hit me in stride."
That humility, coupled with the fact Burnett averaged 17.6 yards per catch, are just a few reasons why the former Wildcat is now a leader for the Braves.
"Leadership-wise he's taken a good step forward," Kessinger said. "I'm hoping he reaches out and takes another step. He's been a joy to work with on the field and off."
Ottawa enjoyed a great deal of success last year, going 8-2 overall and 7-2 in the conference.
"We came one game short of going to the national playoffs," Burnett said. "If we would have beat Sterling we would've most likely made it in."
Next year appears promising, as Kessinger will return several all-conference players from last year's squad.
"It's a long road," he said. "We know we have to take it one game at a time and one day at a time. Hopefully we can string together a lot of one-game winning streaks."
The Braves open their 2009 season Aug. 29 against McKendree University.
More like this story