Kid-Authored Whoppers encourages creativity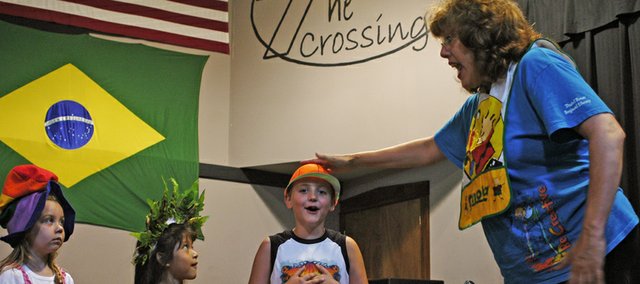 Tall tales were abound Friday at the De Soto Library's "Kid Authored Whoppers."
The kid-centered program focused on creativity in story telling.
Local storyteller Jo Ho held a contest earlier in the year, challenging children to come up with the best tall tales.
Jo encouraged children to get creative with their stories and stretch the imagination.
On Friday, she shared the stories of three metro students at the De Soto Youth Crossing Center. The audience served as helpers in the stories.
Jo said she received a lot of good stories, but the three whoppers stood out.
The first story "Julia Burps Fire" tells the tale of why Kansas looks the way it does.
Julia, a dragon, loved hot dogs, Jo said. But the hot dogs made her burp, causing her to set things on fire.
Seven year-old Hayley Moss wore a dragon cap, burping often to portray Julia.
Julia's owner, Tom the Giant, catches fire and stops, drops and rolls in western Kansas creating the flat landscape.
"Big Mouth Lou" centers on a boy in Alaska with a large mouth. Lou plays a crucial role in helping to clean an oil spill off the state's coast.
"A Basketball Journey" follows a basketball that gets stuck in a sewer and makes friends while trying to return to its owner.
After listening and acting out three stories, it was up to the audience to create their own whopper of a tale.
Six year-old Sienna Wilting came up with the idea of a ballerina, Rosie Jr. The story soon grew to include Smarty Chicken, a chicken that young Rosie teaches how to dance.
When Smarty Chicken has a difficult time learning how to dance, he runs away to an old hotel.
Hayley, Sienna, Savannah Moss and Sara Murphy showed off pirouettes and other dance moves during the story.
At the old hotel, Smarty Chicken meets a ghost. To escape the ghost's clutches, he performs dance moves. To his surprise, Rosie Jr. and other townspeople witness his spectacular moves.
Jo Ho ended the 90-minute long program by encouraging the children to continue getting creative.
Summer fun continues at the De Soto Library at 10:30 a.m. on July 10 with "Imagine That! Creative Drama for Preschoolers." The program helps preschoolers develop listening and literacy skills by creating nursery rhymes.
Later in the afternoon the library will host "Detritus Mosaics" at 3:30 p.m. Kids will use create masterpieces out of boxes, wrappers and other discarded materials.