Downtown upgrades seen as starting point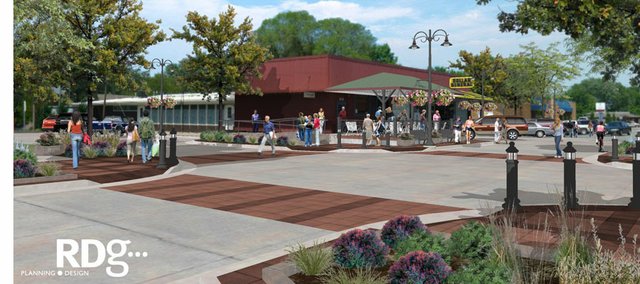 The downtown street and sidewalk improvements completed in Baldwin City a year ago hasn't made much of a difference in his business, but Mike Langrehr said they did change the town's mood about its downtown.
"It does seem to be that people's attitudes are better and there seems to be more people mingling and enjoying being downtown," he said.
Bad economic times started just as the improvements were finished, and that may be a factor in the lack of benefit his business has seen from the increased downtown traffic, Langrehr said. The district's three restaurants probably benefited more than his shop, he said.
Langrehr owns Design Specialties, which offers custom designed and crafted jewelry, antiques, art and other gifts, in downtown Baldwin. The business sits north of the town's High Street, the town's main downtown thoroughfare, on 8th Street. Upgrades were started in June 2007 on three blocks of High Street and one block 8th Street north to the Baker University campus. Work was completed in June 2008.
The street and sidewalk design in Baldwin is much like the one envisioned for De Soto, which will be updated at Thursday's De Soto City Council meeting.
Downtown Baldwin City has bump-outs at intersections containing plants and trees and a series of ramps and stairways on High Street sidewalks to allow at-grade access to doorways.
Baldwin has about 30 downtown storefronts and civic buildings in its downtown, roughly twice as many as De Soto.
Baldwin City Administrator Jeff Dingman said a year after the project he rated the project a success — an assessment he said most residents and downtown business owners shared.
"Overall, most of the storefronts are full and have something in them," he said. "The types of things we have are the types of things that increase foot traffic."
As in De Soto, the suggestion that trees be part of the downtown improvements caused some controversy during the design stage as business owners worried they would cover signs, Dingman said. To address that, trees were limited to intersection bump-outs and smaller trees were selected.
Baldwin's downtown may get more good news. There's a good chance a two-story building that has been empty except for storage for three to four decades may be renovated with its ground floor remodeled for retail and the second story as residential, Dingman said.
Much of the credit for the project should go to the owner of a neighboring building, which was renovated, Dingman said. But he didn't dismiss the importance of the recent downtown project.
"I think it doesn't hurt," he said. "As for the downtown being attractive and increased foot traffic, helped in that regard."
Eudora offers a closer example of downtown revitalization. It also offers an example that is in sharp contrast to Baldwin.
Since Eudora's downtown improvements were completed in December 2008, five business have either closed in the city's downtown district or announced plans to leave.
The reasons for the businesses closing vary. One restaurant outgrew its space and is relocating to Bonner Springs. A bar and grill left closed its downtown location because it was unsatisfied with the condition of the building.
Heather Morse Noble, who owns Boer's Flower Shop in downtown Eudora, said the improvements greatly improved the esthetic appearance of the district. But the closings indicate street and sidewalk upgrades weren't a solution in and of themselves.
"That doesn't take care of the buildings, it doesn't get buyers to come into your store," she said.
The city is also hampered by not having a professional economic development presence, Noble said, although she was encouraged by the Eudora City Council's allocation of $90,000 for a study of the kinds of businesses the city should attempt to attract.
Eudora's improvements were also finished with the start of the recession. They also took much longer than estimated because it was learned after the project started more underground work needed to be done than anticipated.
Noble said the extended construction period added stress to the businesses on the east side of Main Street as access was made difficult.
But Noble said the improvements were important to the eventual success of the district in attracting new businesses.
"We're certainly much better off," she said. "The new sidewalks, streets, light poles and planters makes it look like we're fighting back. It shows the city cares about downtown.
The De Soto Chamber of Commerce and Economic Development Council are supporters of the downtown project. Chamber and EDC Director Sara Ritter said she and chamber and EDC members understand street and sidewalk upgrades were not a cure-all.
"I think it's a beginning," she said. "We have to start somewhere. Realizing what we have, we have to start somewhere.
"With the city making that investment in downtown, it will encourage businesses to make that commitment."
De Soto has a resource Eudora doesn't. As Noble noted, that city has no one working to recruit or retain businesses. One of the businesses leaving Eudora said that was a difference in her decision when she was contacted by other communities about relocating.
What that meant, Ritter said, was that it would be her job to find and recruit businesses that would be a good fit for De Soto's downtown.
"Absolutely. We are looking for setting a date for updating our targeted industry study," she said. "There will be lengthy discussion of downtown. There are a lot of businesses that now want a downtown atmosphere. Having those improvements will make it easier to market the area."