De Soto plans bigger Fourth of July festivities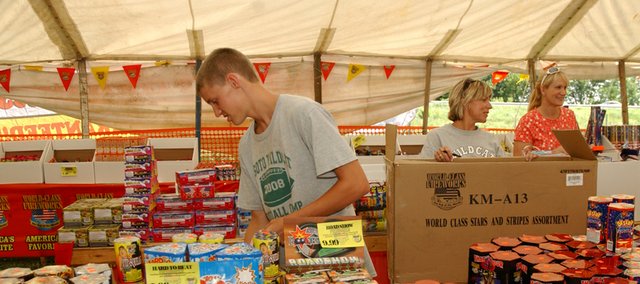 De Soto City Clerk Lana McPherson said she was surprised and pleased with the response to the city's first Fourth of July celebration at Riverfest Park.
The opening of Riverfest Park last October allowed the city to move its annual Fourth of July celebration from the De Soto USD 232 west stadium, where school district officials worried about the possibility of fire. To start a new tradition, De Soto Mayor Dave Anderson put McPherson in charge of organizing the event.
"We have eleven food vendors and ten business booths," McPherson said. "The city is offering two moonwalkers and we are having the band Rule of 3.
"We're getting excited. A lot of people were interested, and the majority of vendors are De Soto folks, which is really a plus for the community."
The De Soto Chamber of Commerce has had two events at Riverfest since it opened last October. In contrast to those two concerts, which were meant to bring people into the community from out of town, the Fourth of July celebration is for the city's residents.
"This is for the citizens of De Soto," McPherson said. "Basically, because it's our first Fourth of July event at Riverfront, the council would like to make it really special," she said. "We tried to involve as many local organizations as possible."
Riverfest Park will open at 6 p.m. The band will start playing at 7 p.m., and fireworks are scheduled for about 9:45 p.m. when darkness ends a long early summer day.
In a year that two of the city's two large neighbors to the east cut Fourth of July shows from their budgets, the De Soto City Council allocated $8,000 for this year's fireworks show, the same as last year, De Soto City Administrator Pat Guilfoyle said.
The city and its vendors were attempting to offer an extended backyard Fourth of July cook-out with barbecue, ice cream, watermelon, community, games and a big fireworks show, Guilfoyle said.
"And live music," he said. "You don't generally have that at a backyard cook-out."