Cats on the attack in 7-on-7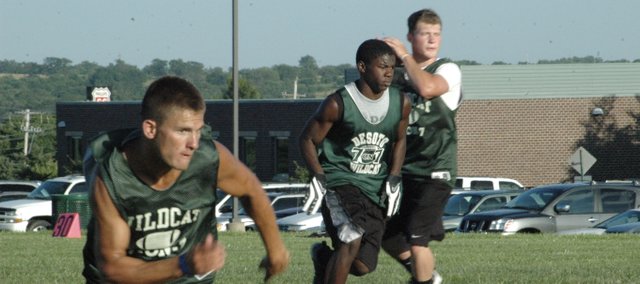 If the De Soto Wildcats play as well on Friday nights as they did during Monday night's 7-on-7 at De Soto, the Wildcats could be in for a big season.
De Soto moved the ball effectively against Turner and Baldwin, and the Wildcats' defense also got in the passing lanes in both games.
Logan Clark showed good arm strength as he zipped several passes deep down field. He also was pretty accurate in the short game and connected with Jeff Bowen across the middle for a touchdown against Turner. Bowen also logged a little bit of time at quarterback Monday night.
Late in the game against Baldwin, senior Dylan Burford also got behind the defense and caught a 30-yard bomb from Clark, but he was just out of the end zone.
"We're going to do the best that we can and we need to find a way to score," DHS football coach Tom Byers said. "That's the bottom line. So we're going to keep searching and find out what works best with the kids that we have. We want to be balanced. We want to have a balanced offense and score some points."
But as good as De Soto looked offensively, it was the defense that had the highlights of the night as the Wildcats picked off three passes, and Jon Hastings and Nick Billings each turned interceptions into touchdowns.
"You're not only getting your offensive work, but those defense guys are starting to figure things out on how to defend," Byers said. "As the game of high school football is evolving with the passing, they've got to do a better job of pass defending. But that was very encouraging."
Another encouraging sign was how well the players and new coach are making the transition. Byers, who spent the past three years as defensive coordinator, is in his first season as head coach after replacing Brad Scott.
Senior tight end Nick Umholtz said the transition from Scott to Byers has been pretty smooth thus far.
"He's different, but we're all getting used to it," Umholtz said.
Byers and the rest of the coaching staff are also taking full advantage of a Kansas State High School Activities Association rule change this year that allows coaches more time and freedom to coach their kids in the summer.
"The biggest thing for me is it takes away the gray area in compromising your integrity as a coach," Byers said. "And you're able to make corrections now during 7-on-7 instead of letting kids make the same mistake over and over. Now we can correct them and not allow them to create bad habits. And hopefully overtime with that having been available to us, you're probably going to see the game of high school football in Kansas take another step up."
More like this story