Wrestlers earn split in double dual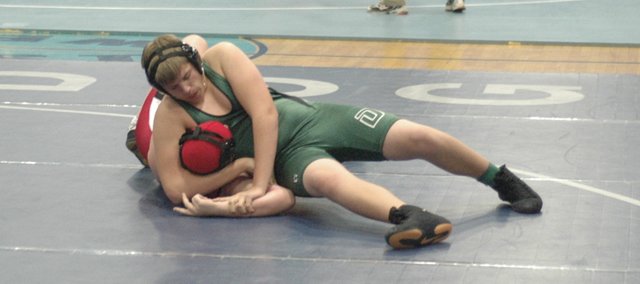 The youth movement that is the De Soto Wildcat wrestling team found success last Thursday in a double dual against Osawawatomie and Wellsville.
The team, which featured six freshmen and three sophomores, edged Welllsville 39-36 but lost to Osawatomie 57-18.
The Osawatomie result shouldn't cause the squad to hang its heads too low, however, as the Trojans are jam-packed with state championship-quality veteran wrestlers.
"It's always disappointing when you get back after a loss," coach Shannon Sawner said. "Osawatomie had eight seniors with four or five state qualifiers. I think we have a lot of young talent. Even in the matches we lost we were competing."
Junior Todd Atchison and sophomore Brandon Vukas did more than simply compete as both pinned their opponents less than three minutes into their respective matches. In fact, Atchison pinned Devin Stine just 15 seconds in.
Sawner said Zack Atchison also wrestled well despite coming up on the short side of a 13-7 decision against Osawatomie's Westin Shay.
"I thought Zack wrestled pretty well," Sawner said. "He had to wrestle a three-time state qualifier and a returning state champion."
The Wellsville-De Soto side of the dual went considerably better for the Wildcats, as three wrestlers earned victories.
Todd Atchison, Hunter England and Vukas won their matches at 119, 130 and 152 pounds, respectively. Darrin McGraw and Cody Vukas each won by forfeiture in the 103-pound division and the 135-pound division.
"Overall I'm pretty pleased," Sawner said. "I'd like to win and get where we can consistently compete. Last year we had a team that only won one dual so we're progressing."
The mostly-rookie squad's next test is another double dual against Christian Prep and KC. Piper Thursday at Piper.