USD

232 program nurtures relationships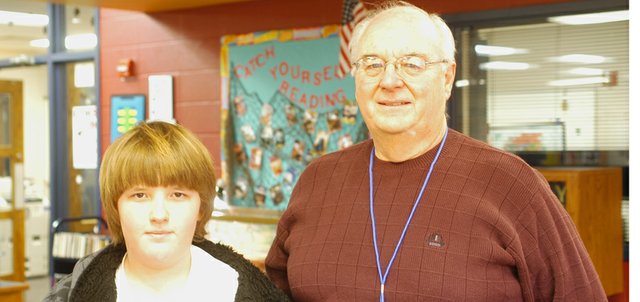 Dakota McCarty set a goal this year when he began seventh grade. He decided he was going to wear shorts everyday.
On a cold Tuesday morning this month, Dakota strolled in to the Lexington Trails Middle School media center in jeans and a heavy zip-up hoodie. He's there to meet a friend.
David Lake retired in July 2007, but that fall he went back to middle school. He didn't go back to learn, yet he comes away each week with a bit more of an insight into the mind of a junior high student.
Every Wednesday morning for an hour, Lake meets Dakota and they hang out. They aren't related, but their relationship has grown since first being placed together in the fall of 2007.
Dakota is one of 160 students in De Soto USD 232 who participates in the YouthFriends program. Lake is one of 120 active mentors in the program.
YouthFriends is a mentor program that connects students with adult volunteers during school hours. YouthFriends can take part in a wide range of activities from helping with homework to exploring the future.
Lake and Dakota usually spend their time exploring natural disasters, playing computer games or working on any homework Dakota has for the day. Rarely is there a moment of silence when the two get together.
"We talk the whole time," Lake said of the meetings. "He has a tremendous personality. He's always making me laugh."
While Dakota enjoys missing a class period to meet with Lake, he also enjoys the close friendship they've formed.
"We talk about our families and where he's gonna go next," Dakota said.
The friendship has help Dakota with talking to other people and classmates, as well, he said.
Lake got involved with YouthFriends after talking with his daughter, a counselor at Monticello Trails Middle School.
"I think it gives me something to do. This is more fun than other things, like mowing the lawn," Lake said. "It's something I do look forward to."
Dakota looks forward to the meetings, too. He often asks Lake what they'll be doing next week.
It's a rare occasion when the two can't meet on Wednesdays, but if they can't, the meeting is easily rescheduled.
At the beginning of the 2008-2009 school year, Lake found another meeting to look forward to. He became a YouthFriend for the second time to Tanner Gussio, a sixth-grader at Mill Creek Middle School.
Renee Hultgren, YouthFriends coordinator for the district, said the program has experienced increased popularity since it began two years ago.
"The district received a Kauffman grant two years ago to start the program," she said. "We do a lot of grant proposals and we wanted to be part of a mentoring program."
Through the first year YouthFriends, had 97 volunteers and the number has grown to 150 at the most. Currently the program has 120 active volunteers, about 10 to 15 volunteers mentor more than one student.
Students are selected to participate in YouthFriends by teachers, counselors or care teams at the schools. Students and parents can also request a YouthFriend if they wish to be part of the program.
Students usually go on a waiting list until a YouthFriend can be found for them. Currently there are 40 students on the waiting list, Hultgren said.
Volunteers are asked what school they would like to work in and the time and day that best fits their schedule. Volunteers also take a training course to prepare for mentoring.
Older students can also volunteer through YouthFriends, Hultgren said.
"We have about 15 students from Mill Valley and De Soto High Schools who go to elementary and middle schools," she said.
Youth Corp volunteers spend the same amount of time with their partners and they receive the same training, Hultgren said.
Volunteers are not reimbursed for their time, but Hultgren said the program does send appreciation cards and hold thank-you events for volunteers.
"This program is available to any student," she said. "Anyone can have a YouthFriend, it's not a program that targets any one type of student."