Chamber honors park designer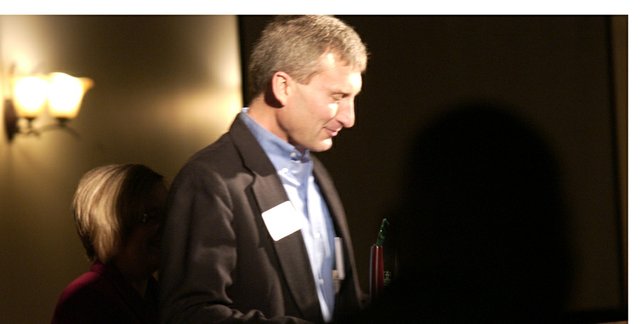 Doug Pickert dismisses the idea that he was responsible for the success of the inaugural event at De Soto Riverfest Park that sprung from the drafting table in his Timber Trails home.
Pickert was honored Saturday as the De Soto Chamber of Commerce's Business of Year. In awarding the honor at the chamber's annual dinner, Chamber Director Sara Ritter cited Pickert's creation of a master plan for the new park and his work with the chamber to help organize its two-day blues and barbecue that opened the park in October.
"It was a lot of folks," he said. "There were so many folks who could have been given that honor."
Ritter is in full agreement with that assessment. But she said she and the board members who selected Pickert for the award recognized his contribution was significant and special.
"When our board chooses the chamber member of the year, we pick out the members who attend and help out with our events," she said. "We relied on our members more than usual this year. There were a lot of members deserving and mentioned, but Doug was on everyone's list.
"We were on such a tight schedule, and we were a fish out of water getting this event organized. We kind of borrowed him for this event. He didn't have to, but he did."
Pickert helped not only with advice about how to make best use of the park he designed but with the grunt work, Ritter said.
"He was the one putting the signs up and making sure the buses got to the right stop — things we didn't ask him to do," she said. "I don't think he ever told anybody 'no.'"
For Pickert, the park's opening weekend was a chance to see his vision come to life.
"It was fantastic," he said. "It's a dream come true for a designer to see people experiencing a space you drew up.
"For the most part, people used it as I thought they would and traffic flowed like I hoped it would."
Pickert had been at the center of the effort to develop the park since soon after moving to De Soto in 2004 with his wife, Janet, now 9-year-old son Ben and 6-year-old daughter Erin. Soon after the move, he tired of the commute to the Kansas City, Mo., architectural firm he was with and opened his Indigo Design Architecture firm that specializes in pubic parks and recreation design and joined the De Soto Parks and Recreation Commission.
Alerted to Pickert's expertise, City Clerk Lana McPherson asked him to sketch a design for a new park in the West Bottoms. At that time, McPherson and City Councilwoman Betty Cannon were researching possible state revenue sources to convert the old sand plant into a park.
Pickert drew up a plan that would serve as a starting point for a for a series of designs He would later produce in 2007 as he worked with the city council to develop the master plan for Riverfest Park.
"It was definitely a dream at that time," he said of his first effort. "I was on the park board for about three years, but there wasn't any money then."
The completion of a boat ramp to the Kansas River provided the momentum to place the park's development high on the priority list of projects identified in a community capital improvement project list developed in 2006. In early 2007, the park was fast-tracked and Pickert won the contract to design the park.
Even with his background in park design, which included on the Leavenworth riverfront park, Riverfest Park was a chance to do something new, Pickert said.
"It was different in a lot of ways, because of it's size," he said. "That much space near the river is unique," he said.
This month, De Soto Parks and Recreation director Jay Garvin received the city council's permission to use the department's winter down time to install a mulched walking trail through the trees on the east side of Riverfest Park.
"It's the right thing to be adding now," Pickert said. "I think given time there will be many uses for that space. I have several in my mind I'm waiting to bring forth. It's a very flexible space. That was what the hope was — that it would adapt for different uses."
Pickert knows there are those in the community who didn't support the park. His rejoinder to such criticism is that it provides the city with future opportunities, while connecting to it to the past.
"Partly because of what I do, I know parks are very important to the quality of life of a community," he said. "Thriving and healthy communities almost without fail invest in their park systems.
"It (Riverfest Park) is an opportunity for De Soto to capture its place in the land. De Soto should be thought of as a river town. For a number of years, that was forgotten. There is a trend of that nationwide."
More like this story