Two underclassmen medal at Clearwater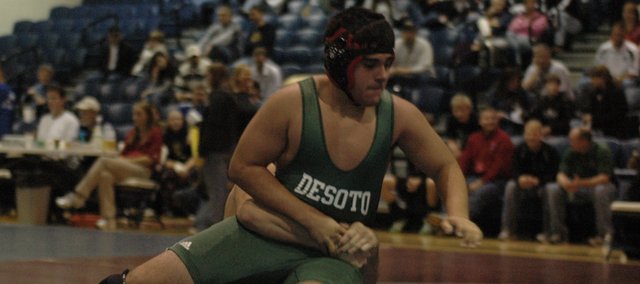 It looked like it could be a steep climb for the De Soto wrestling squad this year, having just two seniors and more than 20 freshmen. But now that the season is about halfway over, it seems De Soto is climbing the mountain.
At the Clearwater Tournament last Saturday, De Soto had two wrestlers place and both of them were underclassmen. Sophomore Brandon Vukus advanced to the finals in the 152-pound weight class, and freshman Zack Atchison placed fourth at 125.
"Those are all positives, so we keep improving," De Soto coach Shannon Sawner said.
In the finals, Vukus wrestled a kid from Andover Central who was undefeated on the season and a returning state champion. Sawner said Vukus' match was a difficult one for him but he battled against some tough competitors to get to the championship match.
"It was a rough match for him in the finals, but he beat a couple really good kids to get there," Sawner said. "So we're really proud of him."
De Soto took nine wrestlers to the tournament and finished 12th out of 15 teams overall. Most of the De Soto wrestlers won one match, and a couple others were one win away from placing.
Sawner said his team had progressed nicely since the start of the year, but was a little unsure if the team was wrestling at the level he thought it would be at midseason.
"It's just the nature of coaching the sport, I guess," Sawner said. "Sometimes you feel like you are headed in the right direction and then you have moments where you question everything you do, I guess.
"But we're definitely getting better and that's the focus. I'm a competitor myself and I grew up an athlete. Our coaching staff wants to win and it's hard to be patient sometimes but we have to be. But I think we are making progress."
Next up for De Soto is a triangular with Osawatomie and Wellsville Thursday at Osawatomie.