Moving forward
Boys bounce back after late-game loss to
EHS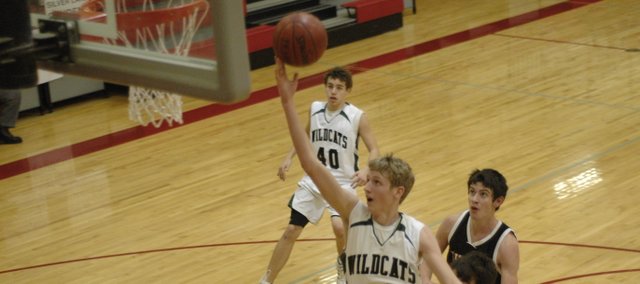 There was no hangover Monday for the De Soto boys team. After falling to Eudora 53-51 last Friday night on a somewhat bizarre, yet thrilling ending, the Wildcats whipped Jeff West 68-47 in the opening round of the Tonganoxie Invitational.
"We all kind of felt a little snake bitten against Eudora," De Soto coach Jim Bonar said. "We knew we didn't play as well as we should have then."
But De Soto looked strong early against Jeff West and broke out to 10-point lead in the first quarter. The Wildcats then outscored the Tigers 22-5 in the second period to take a commanding lead.
De Soto freshman Mason Wedel scored 22 points and hit four threes off the bench to lead the Wildcats in their win over Jeff West. Jamel Townsend scored 15 for De Soto (6-3) and Brandan Philbrook added 10 against the Tigers. Bonar said the team didn't need Wedel to score that much, but added the team would welcome the points nonetheless.
"I don't need him to score like that, but when he does it's a bonus for us," Bonar said. "I got plenty of kids who can score, but if he's controlling the ball and not turning the ball over and getting us good looks to our offense, his points are just a bonus."
Wedel was at the center of attention last Friday at home against Eudora as he heaved a last-second shot from beyond halfcourt that nearly went in at the buzzer. A late technical foul on De Soto and free throws by Eudora's Justin Ballock and Evan Cleveland gave the Cardinals a two-point lead with less than three seconds to play.
Cleveland made the first throw and missed the second. The ball bounced off the rim into the long arms of Townsend who passed the ball to Wedel who dribbled and put up the long desperation shot that was perfectly on line. But it grazed the bottom of the net, falling just short at the buzzer. The Eudora fans and players cheered while a collective groan filled the gym from the De Soto faithful.
"It looked good," Wedel said. "It just came up short. I probably could have taken another dribble and shot it. But if just came up short."
After the Eudora game, the De Soto coaching staff discussed if they would have felt better had Wedel's shot gone in.
"We would have won, but it wouldn't have made us play any better," Bonar said. "And I guess that's what we're after. We don't feel as though we're playing as well as we can right now. We don't think we're playing our best ball. But wins
and losses aside, we still want to play well."
De Soto hit a season-low three three-pointers in the Eudora game and was just 12-22 from the foul line.
"That's not our type of shooting," Bonar said. "They were playing great defense on us and we just didn't get looks to hit more than three threes but I don't think they can defend our free throws, and we didn't hit those either."
The game was even throughout, with both teams retaking the lead often in the first half. Cody Carlson scored nine of Eudora's first 15 points, while Townsend scored six of De Soto's first 12. Both teams used full-court pressure and played ball-hawking man defense in the halfcourt. Townsend had two blocks in the first quarter for the Wildcats, who led 16-13 at he end of the first period.
Eudora soon retook the lead at 18-16 on a three-pointer, but Philbrook answered with a three of his own to give the Wildcats the lead right back. Both teams traded punches the rest of the quarter, and De Soto went into the locker room in the lead at 26-25. Eudora retook the lead at the end of the third quarter, but De Soto tied the game again on two free throws by Wedel with less than six minutes to play.
Two free throws by Brendon Hudson with 1:17 to play gave the Cats a 51-49 lead. But Eudora would answer again on a put-back to tie the score with 30 seconds to go.
With less than five seconds to go, De Soto was called for traveling and turned the ball over. A player made a remark to an official and was called for a technical, setting up the wild finish.
"It's our rival school, so it's always tough to lose, especially when it's league," Philbrook said. "If we would have won that game, we would have been in control of the Frontier League. It's just a really tough loss."
Wedel, Townsend and Philbrook scored 10 each in the game to lead De Soto.
The Wildcats will play Lansing Friday at 4:30 p.m. in the second round of the Tonganoxie Invitational.