Starside Elementary students get hands-on Native American history lesson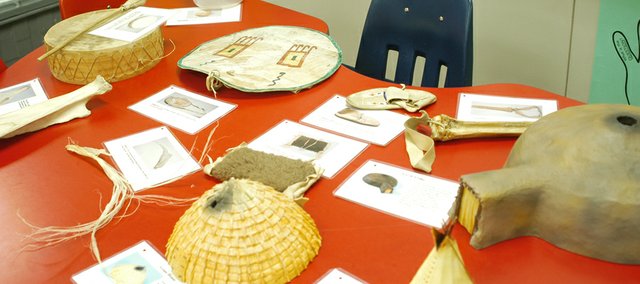 Students at Starside Elementary School are going back in time.
The four second-grade classes at Starside are exploring real Indian artifacts thanks to the Kansas Historical Society in Topeka.
The Historical Society offers Traveling Resource Trunks packed with artifacts to help children learn about the past.
Second-grade teacher Katie Millard said Starside has been using the trunk for the past seven years.
"Another teacher, Deb Martin, began using the trunks when she was teaching the unit," Millard said.
Millard said the school borrowed two trunks from the museum for the unit on Native Americans.
Both trunks hold artifact and replicas of Native Americans in the region. One trunk, "Indian Homes in Kansas" shows students the different homes used, such as the tipi, grass house and earth lodge. The other trunk, "People of the Plains: Native Americans in Kansas" gives students a closer look at what Native Americans used in day-to-day life, such as tools and food.
Sam McCoy was so excited after learning about Native American homes, she made a tipi of her own after school.
"It took about one or two hours," she said. "My brother helped."
Millard said students took the unit to heart.
"They can't wait until social studies," she said.
Cooper Northrub learned about the tools Native Americans used for gardening and other work.
"They had a long stick and put rope around it and used it to cut through the ground for gardening," he said. "It was the shoulder blade of the buffalo."
The trunks even come with real photos depicting the lives of Native Americans, Millard said.
Jaxon Arthur learned about the different homes Native Americans lived in.
"The Pawnee used mud to cover their homes," he said. "They were earth lodges."
The trunks come with lesson plans and activities for the students to do, as well.
Abby Pierron, tour coordinator for the museum, said when putting together the trunks the museum developed lesson plans suitable for certain school grades.
"In designing lessons we select objects that would be helpful for students to see, touch and use while learning about them," she said.
Schools can check out trunks for free for up to a month, Pierron said. The only cost is for shipping, or teachers can arrange to pick the trunks up in Topeka.
Trunks come in a variety of topics, including Kansas Symbols, Puzzles from the Past and Farm Family in Kansas.
Each topic has between three and seven trunks available. Each topic has the same artifacts.
Pierron said the museum was working on a new trunk, Territorial Kansas.
"It's a group that we don't have a lot of activities on right now," she said. "It's required for seventh-graders in Kansas."
To reserve a trunk, the museum must have at least two weeks notice, Pierron said.
For more information about traveling resource trunks visit the Kansas State Historical Society at www.kshs.org or call the Education and Outreach Division at 785-272-8681, ext. 414.
More like this story