Girls suffer setbacks to Cardinals, Chieftains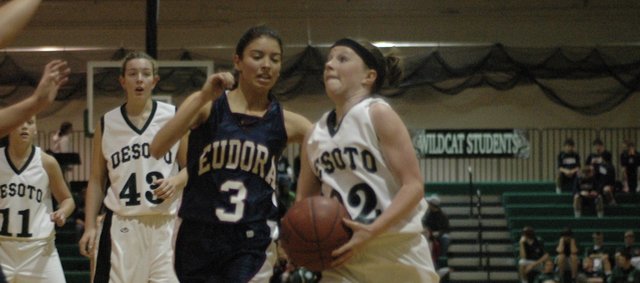 The De Soto girls hung tough into the fourth quarter against Eudora last Friday night at De Soto. But in the end, the Wildcats committed too many turnovers in the final period and Eudora came away with a 60-36 win.
The Wildcats cut Eudora's double-digit lead to seven early in the fourth quarter, but Eudora responded with a 19-2 run to close out the game.
"We turned the ball over a lot in the fourth quarter," De Soto coach Dwight Spencer said. "We just lost our patience and tried to make too much happen too fast and tried to get back in it that way. But you just can't do that. You've still got to stay patient."
It was a back-and-forth game in the early minutes as each team traded baskets and the lead until Eudora scored inside to gain the lead at 11-9. Eudora finished the quarter on a 9-2 run and led 32-20 at the half.
De Soto came out strong in the second half, as Kelsey Fisher hit a three and Katie Williams scored inside off an assist from Tami Crow to cut the lead to seven at 32-25. With the De Soto fans screaming, Eudora called a timeout to regroup.
It seemed every time De Soto would draw close, Eudora would answer. This time it was a three-pointer by Bailey Scott and field goals by Haley Epperson and Evan Folks pushed the lead to 39-25 with just over two minutes to play.
"That's when I think we got a little too excited and started to think we were going to make things happen right away and we got away from what we had been doing," Spencer said. "And things kind of fell apart the last part of the game."
De Soto would answer with a three-pointer late, but Eudora's defensive pressure led to easy layups by the Cardinal guards. And in the halfcourt, Eudora found openings in the paint and scored four straight field goal. Eudora scored 17 unanswered to take a commanding 58-34 lead in the final minutes. Though the score looks like a lopsided Eudora win, Spencer told his team that he was pleased with how it played.
"I told the kids that the only thing disappointing to me is that everybody looks at the score and sees a 24-point ballgame, and for the most part that wasn't a 24-point ballgame," Spencer said.
In the first round of the Tonganoxie Invitational, De Soto met host school Tonganoxie. De Soto led briefly in the first quarter, but a scoreless second quarter doomed De Soto, and the Cats fell 53-27. Tonganoxie's Roni Grizzle led all scorers with 18 points.
Petty led De Soto with six points and Katie Williams and Tami Crow both added four points. De Soto (2-7) will play Jeff West at 6 p.m. Thursday in Tonganoxie.