De Soto girls struggle from downtown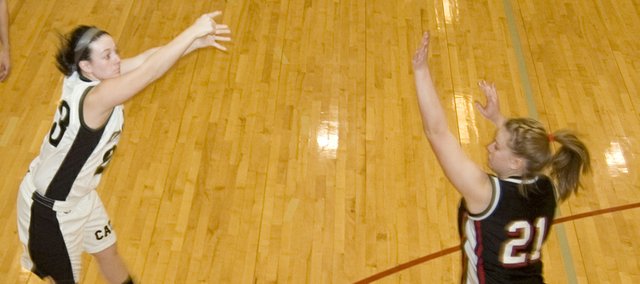 Tonganoxie — Nearly half of De Soto High's shot attempts Thursday night were hoisted from beyond the arc, but only three went through the net as the Wildcat girls lost their second straight game at the Tonganoxie Invitational, falling, 50-40, to Jeff West.
De Soto (2-8) went 0-for-17 from three-point range in the first half. It wasn't until Shelbi Petty, who led DHS with 11 points, hit a trey in the third quarter that the team was able to cash in from downtown. De Soto hit three of its 32 long-range attempts and 15 of 66 field goals.
Tami Crow and Kelsey Fisher also connected on threes in the fourth quarter, but DHS wasn't able to cut the deficit below eight as Jeff West (4-4) advanced to the consolation final.
Following Fisher's three, which cut the deficit to 10, De Soto forced a turnover and Petty scored a layup with 1:28 remaining to make the score 46-38. The Wildcats then forced another turnover but were unable to capitalize with a bucket.
The Wildcats were scheduled to play in the seventh-place game of the invitational on Saturday morning, but tournament officials learned Thursday Don Bosco (Mo.) will not make the trip. De Soto's next game will be Tuesday as the team plays host to Tonganoxie.
Score by quarters
Jeff West 15 6 15 14 — 50
De Soto 9 4 11 16 — 40
De Soto scoring
Tami Crow 4-14 0-0 9, Amber Laudick 0-1 2-2 2, Shelbi Petty 5-24 0-0 11, Kelsey Fisher 1-11 1-2 4, Katie Williams 4-9 1-3 9, Jordin Burford 0-3 3-3 3, Katie Gorman 1-2 0-0 2.