Inauguration teaching moment for De Soto High School current events class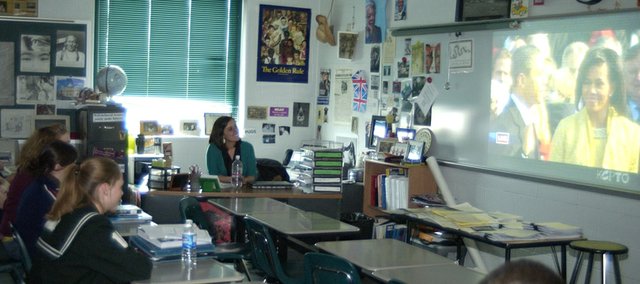 When it came to teaching opportunities, few were better than Tuesday's inauguration for Adrianne Lehrman's high school current events class.
The ceremonies surrounding the swearing in of President Barack Obama played in all classrooms Tuesday at De Soto High School, but few could apply the occasion directly to the course mission as directly as Lehrman.
Before Obama's inaugural address, Lehrman asked her students to listen for themes and for memorable catch phases, such as John F. Kennedy's "Ask not what your country can do for you — ask what you can do for your country," and Franklin Roosevelt's "The only thing we have to fear is fear itself."
After the 18-minute address, Lehrman said she there wasn't a memorable line that stood out. As for themes,
"I did think what he was trying to do was pull a lot of the past. He talked about civil rights, he talked about World War II, but I think what he wanted to do was pull form the past — he talked about the signing of the Emancipation Proclamation, our country has had these themes of strength, and continuity and I think he wanted to pull those through even though we're in kind of a dark patch today," Lehrman said.
Another theme was citizen responsibility to get to work on the country's problems, Lehrman said. That was contrasted to the Wall Street irresponsibility that is responsible for much of the current problems, she said.
After Obama's address, Lehrman asked her students to write a letter to the new president about their concerns and what they would have him do.
Perhaps not surprisingly, college costs were on the minds of Tyler Buffkin, Sam Israel and Becca Roberts. Her parents were teachers, Roberts said, a couldn't afford to spend a lot of money on her college education, especially with two older sisters in college. And she didn't look forward to going $200,000 for a college education.
Tami Crow said she was writing about her ambiguous feelings concerning Iraq. On one hand, she would like to see the United States stay to get its money's worth from the investment of the past five years. But she said maybe we should leave because of the loss of life and the chance we get stuck there.