Sprowl selected to play in Shrine Bowl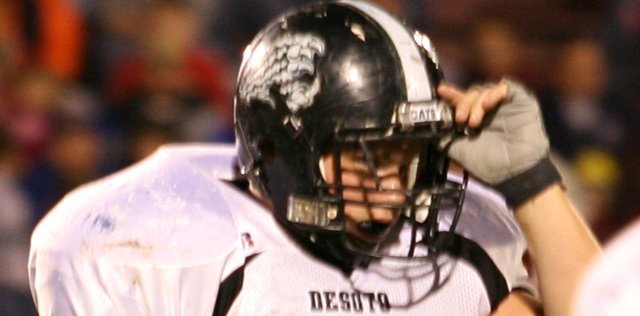 When he opened the first letter from the Shrine Bowl that said he was a potential pick, De Soto senior lineman Mike Sprowl wasn't too familiar with what it meant to be selected to play in the game.
Sprowl now knows the significance as he is believed to be the first football player from De Soto to be named to the Shrine Bowl.
"I was extremely ecstatic," Sprowl said. "I thought it opened up a lot more games for my football career."
The game will be played on July 25 at Wichita's Cessna Stadium at Wichita State University. Only 68 players are selected and they will also be flown to St. Louis and will meet and give autographs to the kids at the Shriners Hospital. The players will have a week's training camp to practice and also will take part in a parade the day of the game.
Sprowl said his goals for the game were pretty much the same as they were all last season for De Soto. He said he wanted to continue playing physical, hard-nosed football. Former De Soto football coach Brad Scott said Sprowl would represent himself, the school and the community well.
"A lot of kids get down there and they get intimidated," Scott said. "And some kids go and thrive in that environment and I'm interested to see how Mike is going to do in that environment. It'll be the first time he's surrounded by players who have as much talent as him. But I don't know if I've ever been around an offensive lineman that hits quite like Mike does.
"I am so excited to watch him play down there I think it'll be really cool for the town and the whole school and for our football program."
Sprowl has continued to train since football season ended and has been sending game film to various colleges. Sprowl said he has received interest from Pittsburg State, Nebraska-Omaha, and Indiana University.
"His enthusiasm for the game and his physicality just made everybody around him better," Scott said. "That's what I loved about him as a player. No matter what was going on we knew Mike was going to play hard and hit somebody."
Sprowl said he would continue looking at various colleges and hoped to make a decision in the coming weeks on where he will play football next season.
More like this story