Six Wildcat wrestlers place at Burlington Tournament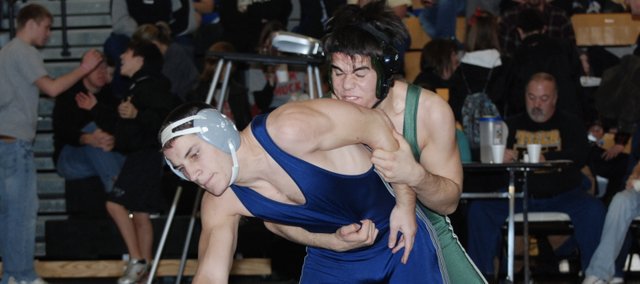 The end results were a little unexpected for De Soto wrestling coach Shannon Sawner. But he'll take them nonetheless.
The Wildcats took fifth-place out of 19 teams last Saturday at the Burlington Tournament and six De Soto wrestlers placed, all of them finishing in the top five of their respective weight classes. Every De Soto wrestler who competed won at least one match.
"We're getting better, that's for sure," Sawner said.
Brothers Todd and Zack Atchison took home third-place finishes in their 119 and 125 weight classes. Hunter England took fourth-place at 130 and three Wildcats took home fifth-place finishes.
Caleb Adkins took fifth-place at 171, Brandon Vukas took fifth at 152 and freshman Daniel Goodin fifth at 140. Goodin has spent time on J.V. and varsity this season and is undefeated in J.V. competition so far this year.
"He's wrestled some tough competition," Sawner said. "He's learning and growing and I think he's ready for some more varsity competition."
De Soto was open in the 103, 112, 189 and 215 weight classes Saturday, making its fifth-place finish a little more impressive. Josh Below and Ryan Reichard were both injured with ankle and knee injuries and did not wrestle last weekend.
De Soto will return to the mats in the Clearwater tournament this Saturday.
"There will be some tough teams," Sawner said. "It's a good tournament for us because there's a lot of 4A competition from the Wichita area and we really need to go see some other schools."
De Soto wrestled there last year and will face teams such as Rose Hill, Pratt, Wellington and El Dorado this weekend. Sawner said he enjoyed facing teams not from the area.
"I don't think you get better by wrestling the same teams over and over," Sawner said. "I'd like to have a nice mix. There are some tough teams down in the Wichita area."
More like this story