Lynn says financial situation puts everything on the table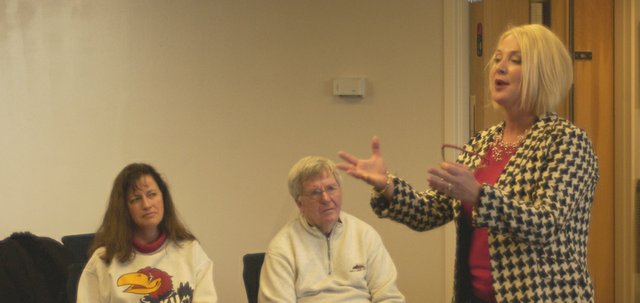 Everything will be on the table this week as the Kansas Legislature starts its 2009 session facing a $180 million deficit, Sen. Julia Lynn said at a gathering in Saturday in De Soto.
The possibilities include tax increases and spending cuts, the Olathe Republican said.
"I can't rule it out," Lynn said of tax increases. "We're looking at a $180 million deficit before we get seated. We're looking at cuts and taxes."
Responding to a question from De Soto resident Max Atwell about what may be in store for senior programs, Lynn said the starting point appeared to be a 16 percent across the board cut to state programs. But she said that could be changed as different constituencies worked the Legislature to protect their interests.
In addition, Lynn said Gov. Kathleen Sebelius was talking about holding education harmless, Lynn said.
"Education takes up 60 percent of our budget when you add in higher education," she said. "If we hold 60 percent harmless, we'll have to triple or quadruple cuts to everything else.
"The fairest way is across the board."
Lynn said it was her hope lawmakers could save the "good stuff." In education, that meant looking to protect spending for teacher retention and recruitment because cuts there could have long-lasting consequences.
To provide school districts with a better planning tool, the Legislature needed to adopt a long-term education plan similar to its typical 10-year transportation plan, De Soto Superintendent Sharon Zoellner said.
As for the 2009-2010 school year, which the Legislature will fund this session, Zoellner said the district was willing to take about everything and hoped that the Legislature would consider mandated programs it was not funding.
Zoellner said one thing should not be on the Legislature's agenda.
"I don't want another efficiency study," she said, pointing out the district received a 100 percent efficiency rating from a state audit last year. "I hear there's another one coming, and we've had three in four years."
Lynn agreed, saying the state's problem was it audited itself and she and other lawmakers didn't trust the analysis of state audits. The economic crisis allowed the opportunity for the Legislature to contract with an outside auditor, she said.
Lynn attempted last year to amend the state's tax credit incentive so that it could help a possible expansion of Huhtamaki in De Soto and other such economic development proposals in the state. Even as the session ended in May, Lynn was optimistic the Legislature would be open to her proposal this year.
But with the economic downturn, tax credit or tax abatement legislation was "not going to happen" this session, Lynn said.
"I'll call it a success if we can keep those we have in place," she said.
The state's way out of economic doldrums was through effective use of existing resources, including the Johnson County Research Triangle, its bioscience initiative, and its schools, and entrepreneurial innovation, Lynn said.