Inauguration proves a unique teaching tool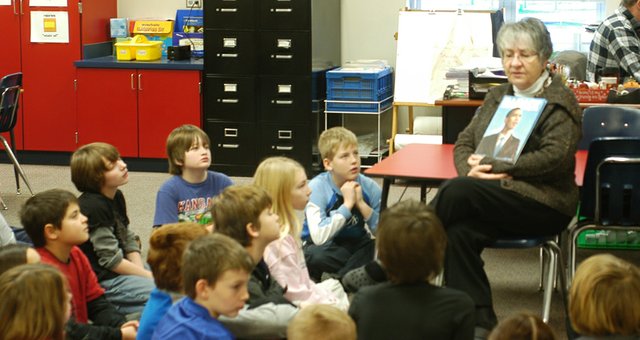 Much like earlier generations of school children learned that Abraham Lincoln rose from humble beginnings to become president, Starside Elementary School students are learning what made the man who will lead the country starting Tuesday.
"I didn't know his real father and mother were separated and that he had a rough childhood and that helped him be caring," said Starside fourth-grader Hadyn McGrew of Barack Obama.
The lesson Starside students are learning as school counselor, Paula Henderson, read each class the book "Barack" is that character counts. Caring and citizenship took center stage this week as students learned more about president-elect Obama and the upcoming inauguration.
The children's book illustrates the life of the country's next president. The book chronicles his birth in Hawaii, his childhood, community involvement and careers.
"I'm using it for character education," Henderson said. "I'll read them the book and we'll talk about what characters we saw in the book."
Henderson said the pillars of caring and citizenship were obvious in the book.
"Right now, the spotlight is on caring and the next is citizenship, so this book is perfect," she said.
Henderson said the lessons from "Barack" fit perfectly with the inauguration next week.
"It kind of fits here," she said. "They are going to be hearing that name a lot, and I think they need to know what's happening and who these people are. He certainly didn't have an ideal childhood but what he's made out of it is wonderful."
Henderson visited fourth-graders Tuesday morning to read and discuss the book and inauguration.
McGrew said it was cool to learn how Obama grew up.
The class talked about Obama's work caring for those less fortunate in Chicago and his sense of citizenship by stepping up and accepting the positions that he had.
Fourth-grader Gabrielle Mallozzi said she was excited for the inauguration after reading the book and talking in class.
"I'm excited because it's a big deal; it's our new president. You don't get one every year," she said.
Hadyn understood the importance of the inauguration.
"It doesn't happen every year, only every four years," he said. "It's cool; we're not going to happen next year. We'll have to wait."
Henderson said the inauguration was a great way to inform the students more about Obama, since they will he hearing from him a lot in the future.
The presentation also built on the schools election activities in the fall.
"We had our own election, and the kids voted," she said. "And he won."
Henderson said the lesson wasn't a political statement. She would have done the same had John McCain won the presidency.