Defending the den
Wildcats get defensive in home win over Panthers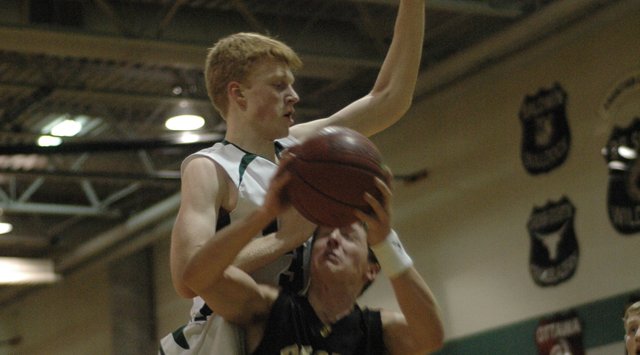 In the waning seconds of game, the De Soto student section chanted "Just like football," referring to the Wildcats' 20-14 road win at Paola last fall.
The chant was music to the boys basketball team as it defeated Paola, 47-35, Friday night at De Soto.
Brendon Hudson scored 18 points and hit five three-pointers in the league-opening win but it was the Wildcat defense and rebounding late that catapulted them to a come-from-behind win. The game featured physical play throughout, with both teams diving on the floor and getting knocked to the floor.
"An ugly win is still a win," boys coach Jim Bonar said. "There was no flow. This has been the worst we've shot the ball outside. Hudson shot the ball well but for some reason we had a lid on the rim and in a very physical game, scoring inside is even tougher than shooting outside for some reason."
Hudson began the game with a three and De Soto took a 10-2 lead at the end of the first period. Paola started the second quarter on a 7-0 run, but De Soto stopped that flurry with a field goal by Jamel Townsend coming off an assist from freshman guard Mason Wedel. Senior Tommy Elmer then hit a three and Hudson and Brandan Philbrook hit shots to give the Cats a 20-14 lead at the half.
Paola cut the deficit to four at 29-25 at the end of the third quarter and an 8-0 Paola run to start the final period gave the Panthers a 33-29 lead with just under five minutes to play in the game. But Hudson fired in another three to cut the lead to one, and then De Soto's defense stiffened and the Wildcats got physical down low.
Junior Paul Stallbaumer blocked a couple shots in the second half before he was saddled with foul trouble.
"He's really been confident with rebounding and banging bodies inside," Bonar said of Stallbaumer. "That's just his type of ball game."
Sophomore Aaron Nutterfield grabbed two rebounds on consecutive possessions late in the fourth quarter, and Townsend skied over the Paola interior for a rebound and put-back to give the Cats the lead again at 34-33 with 3:30 remaining.
"He was strong inside and that's what you expect out of your seniors who have been there and done that," Bonar said of Townsend. "Everybody knows he's a great rebounder who is strong and can go up and get it and stick it back in. It's what we expect out of him. We're not surprised."
Hudson then hit another three and Wedel scored to boost De Soto's lead to six with just over two minutes to go. Townsend came up with another big rebound and hit a free throw in the final minute to cushion the lead and Wedel hit two free throws to close out the game.
"When it came down to it, we just knuckled down and had to get defensive stops because the way were scoring we weren't going to score enough points to really put it on anybody," Bonar said. "So we had to make sure we got stops.
"Give credit to Paola. They're well-coached and disciplined and they banged us all night long and I hope we grow as a team physically from that."
Townsend, who finished the night with 11 points, said he knew the game would be physical from the start but added that his team liked physical play.
"It was pretty intense," Townsend said. "It was a lot of fun out there. We like the physical games. We feel like we got some big, strong guys. Paul's pretty strong too. We can play those games."
Tuesday at St. James, the boys lost 42-37. De Soto was down 14-4 in the first quarter and had to play from behind the rest of the game.
"They were hot early and we weren't," Bonar said.
Hudson led De Soto with 10 points. The Wildcats will play Eudora Friday night at home and then in the Tonganoxie Invitational next week.